Madame Tussauds' Trump Wax Figure Is Now Literal Trash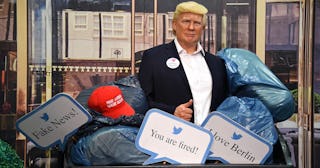 Tristar Media/Getty Images
Madame Tussauds in Germany has made a political statement by trashing Donald Trump's wax figure days before the election
Madame Tussauds wax museums around the world are famous for their uncannily life-like wax sculptures of celebrities, political leaders, and all-around icons. If you walk into one of their museums, which are scattered globally everywhere from Los Angeles to Wuhan, China, you are likely to encounter doppelgängers of Kim Kardashian, Tupac, Justin Bieber and even a few U.S. presidents. For example, former reality star President Donald Trump was recently a resident at Madame Tussauds in Berlin, Germany. However, ahead of the Nov. 3 election, the German museum has taken a "preparatory measure" in anticipation of the election results — that Trump will fail to be elected for a second term — and removed him from the presidential display.
The museum shared a photo and video of their creative new "display." In it, Trump, giving his famous thumbs up sign, is being wheeled off in a dumpster. He's surrounded by props, including signs reading "Fake News!" "I love Berlin," and "You are fired!" (possibly left over from his days as a reality star in The Apprentice) — all with the Twitter logo, since the President loves to tweet.
Hanging on the bin, also filled with huge, black trash bags and MAGA hats, was a large sign that reads, "Dump Trump Make America Great Again." And, to complete the "display," behind the dumpster was a Trump Tower backdrop.
"Today's activity is rather of a symbolic character ahead of the elections in the United States," the museum's marketing manager Orkide Yalcindag tells Reuters. "We here at Madame Tussauds Berlin removed Donald Trump's waxwork as a preparatory measure."
Reuters notes that it is not common for the wax museum to remove a President after they leave office. For example, Barack Obama, who happened to be a close ally of Germany's Chancellor Angela Merkel, still has his place in the wax museum.
This isn't the first time the Berlin outpost has taken aim at Trump. Back in May, when the President still refused to wear a face mask despite the urging of nearly every major global health entity and health expert, they used his wax figure to demonstrate the proper way to use a mask.
With the crucial election just days away, it is likely that less people than ever will physically be at the polls on Tuesday. According to a CNN, Edison Research, and Catalist poll, more than 90 million Americans have already voted. If you aren't one of them, make sure your voice is heard on Nov. 3 by casting your vote.