10-Year-Old's Made Up Superhero 'Janet' Is Inspiring AF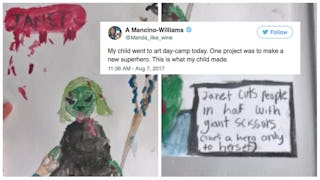 Janet is the hero the internet wants and deserves
We all have a new hero, and her name is Janet.
Manda Williams sent her 10-year-old daughter Luca to art camp, and Luca used the opportunity to be a hilarious badass. One of her projects was to create a new superhero, and Luca drew "Janet," a green woman with a leafy stick in one hand and a pair of bloodied scissors in the other. On the corner of the page, Luca wrote, "Janet cuts people in half with scissors (She's a hero only to herself)." Let's be honest — that's kind of low-key relatable, even though it's super dark and kind of morbid.
And it turns out Janet is a hero to way more than just herself. Williams posted a photo of the drawing on Twitter, and Janet quickly became a hero to a whole lot of other people. What was even cooler is that people started recreating Janet and posting their own drawings, illustrations and cosplay.
Williams told Scary Mommy that Luca is loving how hard the internet has embraced Janet.
"She loved the drawings," she said. "She loves comics, anime, manga, so seeing Janet come to life in that way was beyond her wildest dreams."
https://twitter.com/jetpack/status/895109554299691014
Luca also loves seeing her art spread all over the internet as it's going viral.
"She's over the moon," Williams said. "Quite giddy. Her older brother gets a lot of attention for his drawings, so she's used to watching him get applauded. This has been so great for her. She's very deep and an imaginative writer, despite just turning 10. This has definitely given her the confidence and motivation to think about the idea of Janet and what she could become."
Luca has some future plans for Janet, and she's putting those writing skills to good use.
"She wants to make t-shirts because she loves graphic tees," Williams said. "And she's been busy writing for hours in her room about Janet – I have not yet been invited to see the draft."
While we're waiting to get our Janet tees and read our Janet novella, we just have one other question: What's with the stick Janet carries? Luckily, Williams asked Luca so the internet could have the answer to that burning question.
Keep on inspiring the internet, Luca and Janet.
This article was originally published on