Madonna's Bizarre Tribute To Aretha Franklin Has The Internet Confused AF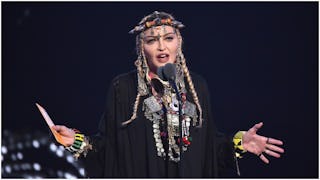 Image via Kevin Mazur/Getty
Madonna's tribute to Aretha Franklin at the VMA's was all about Madonna
On Monday, Madonna took the stage at the VMAs to pay tribute to Aretha Franklin, our beloved Queen of Soul, who died last week. Only, the tribute ended up not being about Aretha Franklin at all. It was actually just a bizarre, super long homage to Madonna herself, and most of the internet is still scratching its head.
The speech started out promising enough. "Aretha Louise Franklin changed the course of my life," Madonna began. "I left Detroit when I was 18, $35 in my pocket. My dream was to make it as a professional dancer. After years of struggling and being broke, I decided to go to auditions for musical theater."
Okay…sounds like Franklin is going to factor in somewhere super important in this story, right? Nope. Nope. Not at all.
The singer went on to discuss all the hardships she faced, at one point called herself a "rebel heart," and then told a very long-winded story about an audition she went on.
"Two very large French record producers sat in the empty theater, daring me to be amazing," Madonna said. "The dance audition went well. Then they asked me if I had sheet music and a song prepared. I panicked. I had overlooked this important part of the audition process."
Well, turns out she decided to sing Franklin's hit "(You Make Me Feel Like) A Natural Woman." That audition opened a few doors for Madonna, which was kind of the point of the whole speech? I guess?
"There is a connection," the singer quickly assured the audience. "Because none of this would have happened — could have happened — without our Lady of Soul. She led me to where I am today. And I know she influenced so many people in this house tonight. In this room tonight. And I want to thank you, Aretha, for empowering all of us. R-E-S-P-E-C-T."
Then, she told a story about this one time when she lost her shoe at the VMAs and her dress accidentally flew up. Ummmm…
The internet had some THOUGHTS about Madonna's alleged "tribute" to Franklin. Mainly, everyone was like, what in the world just happened?
BRB, going to go pay proper tribute to Aretha Franklin by playing every single one of her songs very loudly, on loop for the rest of the day. R-E-S-P-E-C-T indeed.