300 Dancers Show Up For 'Ballet Class' In Front Of GMA After Host's Shaming Comments
by Leah Groth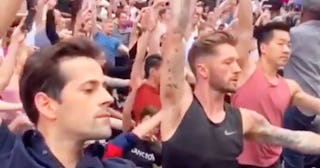 Alex Wong Dance/Instagram
300 dancers, many of them men and boys, took a ballet class in front of GMA after the host's sexist comments
Last week Good Morning America host Lara Spencer's reaction to the news that Prince George was taking ballet shocked the entire world. So many people — including male dancers themselves — were outraged by her tone-deaf, sexist, and bully-like approach to the fact that a boy (ahem, the future King of England to be exact) was lacing up his ballet slippers.
On Monday, Spencer opted to address her reaction of laughter and snide commentary head-on, issuing an on-air apology and sitting down with dancers Robert Fairchild, Travis Wall and Fabrice Camels to discuss their own, personal experiences with being bullied for taking ballet. But that's not all. She invited the professional ballerinos (the slang word for male ballerinas in case you didn't know) to rally together a group of 300 dance students — many of them male — for a "Good Morning Ballet" class in front of the GMA studios. Many of the dancers shared videos of the event, which was absolutely beautiful and incredibly moving.
"300 DANCERS showed up for ballet class this morning in Times Square in front of @goodmorningamerica!! I am so proud and overwhelmed with the support from the dance community standing together on such an important issue," world renowned dancer and Broadway star Alex Wong wrote on Instagram along with an awesome video.
"I almost didn't start dancing when I was young – I constantly said "dancing is only for girls". It took 2 years for my parents to convince me and I'm so glad I did. I hope the next generation of boys don't have to deal with the same type of bullying a lot of us had to deal with – we will not stand for it! #boysdancetoo."
Wall, who revealed on Friday that Spencer had contacted him personally to apologize for her comments, which she referred to as "horrifying," also shared a clip on his account. "Getting to teach young men and women and getting to share stories was one of the most beautiful mornings I've ever had! I love our dance community!!!" he wrote.
"I screwed up, I did," Spencer said in the lead-up to the interview with the dancers. "The comment I made about dance was insensitive, it was stupid, and I am deeply sorry. I've spoken with several members of the dance community over the past few days. I have listened. I have learned about the bravery that it takes for a young boys to pursue a career in dance."
Other dancers and supporters of the movement rallied at the event, many sharing how being a dancer transformed their life.
https://www.instagram.com/p/B1oSHQEpu9F/?utm_source=ig_embed
While there are no excuses for Spencer's initial reaction to a boy taking ballet, as there is no place for sexism or promoting toxic masculinity in 2019, the ugly truth is that many people probably had the same reaction. The silver lining is that it has spawned this incredibly important #boysdancetoo movement, reminding people that dancing is awesome for everyone. In fact, maybe it will inspire more parents to sign their boys up for ballet classes at dance studios across the country, many of which offer discounted or even free tuition to encourage more male participation. So bravo to all the people who participated in this class and helped lend support to boys who enjoy dancing.
This article was originally published on