Mall Santa Moves Onlookers To Tears Using Sign Language To Speak To Young Girl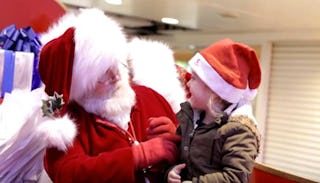 A mom brought her three-year-old daughter to visit Santa over the weekend at a UK mall. The little girl looked instantly enamored, but when Santa began to ask her questions, her mother warned that the child "can't talk very well." Santa responded, "Can she sign at all?"
What happened next is totally heart-warming.
The video quickly went viral after the mall posted it to their Facebook page Sunday. It turns out Santa has a lot of experience dealing with children who have special needs. "He works through the week at a school for children with special needs, so he learned the sign language via that," Cleveland Shopping Centre manager Graeme Skillen told Today.com. "It was one of the things that really appealed to us."
The crowd looked on, overtaken by the emotion of the moment. "As soon as it happened, the whole area just went silent. Everyone was just spellbound by it. People were crying in the crowd," he said. "Members of our security staff were almost crying. It was just an amazing moment."
People are flocking to the mall's Facebook page to share their own experiences with the special Santa:
Totally amazing and fantastic to see him putting children at ease. Truly a miracle on 34th St Santa in our own town.
What a darling little girl! And I never doubted for a moment that Santa isn't real!
I always told my kids that mall and event Santas were actually Santa's helpers because Santa was at the North Pole working with the elves. I think he might have left the elves to their own devices and instead was sitting in that chair at your mall this weekend.
Never stop being awesome, Santa. This moment makes us all want to believe that the man in the red suit sitting in the center of shopping mall is going to climb right onto his sleigh and fly off to do some magical things…
or at least make another child feel special next weekend.
This article was originally published on