Vanessa Bryant Renames Kobe's Charity To Honor Daughter Gianna Too
by Julie Scagell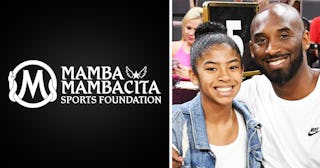 Vanessa Bryant/instagram and Ethan Miller/Getty
The foundation will now be called the Mamba & Mambacita Foundation
Vanessa Bryant made a big announcement on social media, honoring her daughter Gigi by officially changing the name of the Mamba Sports Foundation started by her late husband, Kobe Bryant. The group will now be called the Mamba & Mambacita Sports Foundation.
"Because there is no #24 without #2, we have updated the Mamba Sports Foundation to now be called the Mamba & Mambacita Sports Foundation," she wrote on Instagram, sharing the new logo. "Our mission remains the same – and stronger than ever – to provide opportunities to young people through sports. Thank you all for the outpouring of support and your kind donations to date as we carry forth Kobe and Gigi's legacy.. We hope to empower young athletes in a world they left us all to help shape."
https://www.instagram.com/p/B8hXv5KjpZs/
Bryant has been sharing her emotions with fans since Kobe and Gigi were killed in a helicopter crash that also killed seven other people. They have since been laid to rest during a private funeral at Pacific View Memorial Park in Corona Del Mar, California. In the wake of their deaths, Vanessa wrote, "I can't process both at the same time. It's like I'm trying to process Kobe being gone but my body refuses to accept my Gigi will never come back to me. It feels wrong. Why should I be able to wake up another day when my baby girl isn't being able to have that opportunity?! I'm so mad. She had so much life to live."
https://www.instagram.com/p/B8ZavYwDZ5y/?utm_source=ig_embed
Among the objectives of the Mamba & Mambacita Foundation, is to "provide underserved communities and individuals with sports programming that enriches their socio-emotional and physical development," and "to provide funding for underserved athletes that enable participation in school or league sports…offer equal opportunities for young women in sports."
Kobe and Gigi were fixtures at the foundation's camps, clinics, and leagues and the 13-year-old was taking after her father's love of the game. Her jersey has since been retired at a ceremony Vanessa shared with fans earlier this week. "My Gigi," she wrote. "I love you! I miss you. You've taught us all that no act of kindness is ever too small. Mommy is still and will ALWAYS be so proud of you mamacita."
https://www.instagram.com/p/B8NVpT6ATBO/
The foundation was central to Kobe after his retirement, and his love of youth sports and giving back to the community was evident. Having his daughter's legacy as a part of the name is fitting given how close the two were and for all they stood for. It will go on to help so many kids discover a love of sports and be able to participate when they may not have otherwise gotten the chance.