France's 'Spider-Man' Offered Citizenship After Rescuing Toddler Dangling From Balcony
by Christina Marfice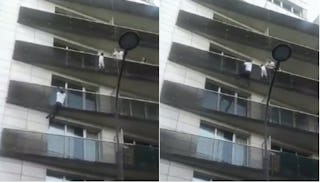 Image via Twitter
Mamoudou Gassama now has a job offer and a path to citizenship after saving a toddler's life
When he saw a four-year-old dangling precariously from a balcony, Mamoudou Gassama didn't need to take much thought before springing into action.
In the now-viral video recorded by a bystander, Gassama can be seen scaling the lower balconies like a human Spider-Man, reaching the fifth floor and pulling the child to safety in just minutes.
Um, yes, this actually happened. If your eyes are bugging out of your head and you need to watch that video a second time to make sure you actually just saw that go down, go ahead. That's pretty much the standard reaction.
In the days since the video went viral, it's been revealed that Gassama, a 22-year-old living in Paris, France, is there illegally. He's an undocumented immigrant from Mali who went to France in order to be with his older brother, who has lived there for decades. And because he's a badass who literally saved the life of a child at great danger to himself, that's about to change.
"Congratulations to Mamoudou Gassama for his act of bravery that saved the life of a child last night," Paris Mayor Anne Hidalgo tweeted over the weekend. "He explained to me that he arrived from Mali a few months ago while dreaming of building his life here. I replied that his heroic gesture is an example for all citizens and that the City of Paris will obviously be keen to support him in his efforts to settle in France."
Soon after Hidalgo made that statement, things got even better for Gassama. He was invited to the French presidential palace to meet with Emmanuel Macron.
"I ran. I crossed the street to save him," the Associated Press reports Gassama told Macron. "When I started to climb, it gave me courage to keep climbing. Thank God I saved him."
During their meeting, Macron praised Gassama for his bravery, and then offered him papers that will allow him to live legally in France, as well as citizenship if he wants it. Gassama even has what sounds like a job offer in France now, with the Paris firefighters brigade. "Paris fire brigade would be keen to welcome him to their ranks," Macron stated in a comment on his Instagram account.
In Paris, where the anti-immigration sentiment is bitter enough to rival the U.S., this story serves as a perfect example that all people have value to offer a place and deserve a chance to call another country home.
This article was originally published on