Man Stops Traffic On Freeway To Propose: Can We Stop With The Viral Acts Of 'Love' Already?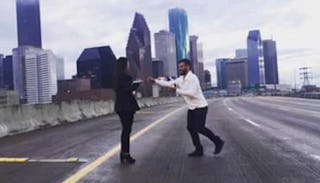 Everyone loves a good proposal story, but this one about a Texas couple who blocked traffic on a major freeway while they got engaged kind of seems like the opposite of that. According to Buzzfeed, Houston resident Vidal Valladares Navas wanted to propose to his girlfriend, Michelle Wycoff, in a special way. He knew she loved a certain spot along I-45 — one of the busiest freeways in the country — so he decided, what the hell? He'd just go ahead and propose right there.
Navas drove Wycoff out to the spot and had his friends follow them in their cars. He stopped in the middle of the road, pulled her out of the car, and got down on one knee while his friends blocked the traffic behind them. Their friends even recorded a video, in which you can hear dozens of people honking and see cars driving around them in the emergency lane.
A few hours after the proposal, Navas posted a photo of the event on Imgur, with a caption that read, "When you shut down one of the biggest and busiest freeways in the entire country and ask your girl if she wants to marry u [sic], that moment is priceless."
It's also selfish, dangerous, absurd, and illegal. "Priceless" definitely wasn't the first adjective that came to mind when I saw the footage, and plenty of the 240,000 people who've viewed the photo seem to agree. One person tweeted that the couple are "the worst people ever," and another wrote, "The things people will do just to get five minutes of social media 'fame.'"
What's even worse is the couple seems totally oblivious to the potential consequences of their actions. Navas told the Houston Chronicle he "never really thought about causing an accident" or how shitty it was to bring downtown freeway traffic to an abrupt standstill. His fiancée backs him up on that point, saying, "Honestly, I didn't think about if it was a good idea or a bad idea. I was just so happy in the moment."
Whether they see the reality of the situation or not, the cops sure did. Once they got wind of what went down, they charged Navas with a class B misdemeanor for blocking a roadway. In the state of Texas, that means he's eligible for a $2000 fine and up to 187 days in jail. Said Victor Senties of the Houston Police Department, "We do not encourage this type of thing because it's very dangerous and people could have lost their lives."
I'm sure Navas just wanted his proposal to be epic and possibly go viral, but that's part of the problem, isn't it? We live in a time when everyone is so concerned about creating the next viral post, tweet, meme, and video. It's like a pregnancy announcement or an engagement doesn't even count anymore unless it's huge, outlandish, and completely narcissistic.
Blocking traffic on a major freeway for any reason is a really, really dumb thing to do, and instead of coming off as sweet or spontaneous, this proposal just looks like the height of self-absorption. If you want to propose with a beautiful downtown backdrop, maybe just take your significant other up on a rooftop. Try a fancy restaurant, or pick a locale to the side of the highway that still has a similar view. It's possible to have a special moment without asking the entire world around you to stop in the name of love. Plus, paying huge fines and serving jail time probably puts a cramp in your wedding planning.