25-Year-Old Man Is The First Person In The US To Contract COVID Twice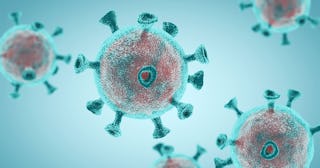 dowell/Getty
His symptoms were "more severe" than with his first case
A 25-year-old Nevada man has contracted the coronavirus on two separate occasions, a study in the Lancet Infectious Diseases journal reported. It is the first confirmed case of reinfection in the U.S. and the fifth confirmed case worldwide.
The man contracted the cases about six weeks apart and he became seriously ill following the second infection. His symptoms fully cleared from his first infection by April 27 and tested negative for the coronavirus on two separate occasions, on May 9 and on May 26. On June 5, he tested positive again after experiencing COVID-like symptoms and had to be hospitalized because they were "more severe" than the first.
The man has no known immune disorders or history of underlying health conditions, according to the journal.
Though this is just the first case where a person has become reinfected, it raises questions both about precautions that need to be taken even after you've had COVID-19 like masks and social distancing, as well as what this could mean for immunity or for people who may not believe they can get it a second time and never get retested.
To date, more than 37.8 million people have contracted COVID-19 worldwide, with 1.08 million related deaths, according to Johns Hopkins University.
"The second infection was symptomatically more severe than the first," the authors of the study wrote. He later recovered and was discharged from the hospital. A woman in the Netherlands who was also infected twice died after contracting the virus again.
Scientists said the Nevada patient did contract the virus twice rather than it laying dormant in his body because a comparison of the genetic codes showed "significant differences" between each infection.
"These findings suggest that the patient was infected by SARS-CoV-2 on two separate occasions by a genetically distinct virus. Thus, previous exposure to SARS-CoV-2 might not guarantee total immunity in all cases," the authors of the study said. "All individuals, whether previously diagnosed with COVID-19 or not, should take identical precautions to avoid infection with SARS-CoV-2."
Danny Altmann, a professor of immunology at Imperial College London, told NPR it seems that about 90% of people who have experienced "a clear, symptomatic infection" have the antibodies to fight off another infection, "perhaps for about a year."
"Of course, that leaves 10% who don't have sufficient antibodies to fight off a second infection," he added. "[T]hey have precisely the same risk as anyone out there, thus a small but significant number of reinfections."
Information about COVID-19 is rapidly changing, and Scary Mommy is committed to providing the most recent data in our coverage. With news being updated so frequently, some of the information in this story may have changed after publication. For this reason, we are encouraging readers to use online resources from local public health departments, the Centers for Disease Control, and the World Health Organization to remain as informed as possible.