Stranger Lets A Boy Believe He's Santa And Proves Christmas Spirit Isn't Dead
by Valerie Williams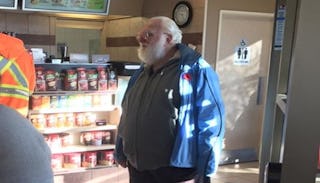 Image via Facebook
A kind stranger in a coffee shop made a little boy's holiday season memorable in the best way. The child mistook the man for Santa and the stranger played along. As it turns out, it's far from the first time he's indulged a kid in this way. If this story doesn't give you a healthy dose of Christmas spirit, nothing will. It's what we all need to see this time of year.
If you're on the big side and sport a white beard, you can probably expect a fair number of children to call you "Santa" around the holidays. This might annoy some, but not an Ontario man who embraces his Santa-like appearance each year, to the delight of kids wherever he goes.
The photo and story were posted on Facebook by Mark Hurson, a customer who witnessed the exchange. He describes how the boy sees the man and immediately calls him "Santa." "The older gent looked down and smiled and asked him if he sent his letter into him yet? The boy said no and he would be doing it tonight. He said you better be nice to your mom and sister because I'm watching. He then said goodbye and was going back to the North Pole to finish the toys with the elves." Hurson goes on to add in an interview with Buzzfeed Canada that the man pulled a pen from his pocket that said "Santa Claus" on it to give to the boy so he could write him a letter.
After his Facebook post went viral, Hurson found out that the man makes a habit every year of pretending to be Santa and handing out those special pens for kids to write him letters. He happened to run into him again the day after he posted his story to Facebook. Hurson tells Buzzfeed Canada, "As soon as I saw him he had a big smile." The man, age 80, had already seen the post and the comments praising his kindness.
Local news picked up the story and tracked the man down, who insists on being named only as "Santa." He tells CityTV, "What Santa is trying to put out is, 'Give. Let's give and not take." What a simple, yet, powerful message. And he's not just saying it, he's living it. According to Buzzfeed, Santa grows a new beard every year and carries the pens with him at all times. He told Hurson he doesn't give out candy since his granddaughter has diabetes and he doesn't like to encourage sugar. Even better, the pen will last forever and the children who receive one can use it every year to write a new letter to Santa. What an awesome souvenir for what must be a very memorable encounter for a little one.
What a fantastic thing Santa is doing for the children fortunate enough to run into him. He's living what Christmas is really about. Kindness. Love. Patience. He gives children a moment of magic and innocence. Something they'll never forget. All kids will one day know Santa is a myth, but they'll always remember the kindness a complete stranger displayed in preserving their child-like belief.
It's so easy to feel cynical this time of year. Even if you have kids, the magic of the season can be lost in the frustration of mall crowds, cooking and tracking down all those gifts you need to buy. This story is a wonderful reminder of how we could all stand to be a little gentler to each other, not just during Christmastime, but the whole year through. Kudos to this man for making us all believe. Not in Santa, but in kindness.
This article was originally published on