Man Live-Tweets His Flight Sitting Next To An Emotional Support Duck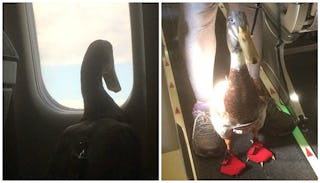 Emotional support duck becomes internet sensation after seat mate live-tweets about him
A man on a short flight from Charlotte to Asheville got quite the surprise when he was seated next to a fellow passenger's support duck. Thankfully, Mark Essig is on Twitter, and he shared his experience with all of us. Unluckily, the adorable little duck is making our loud, excitable kids look bad.
According to Mashable, the duck was remarkably well-behaved. And its owner didn't even have to pacify the other passengers with any of those absurd preemptive-apology goody bags.
Apparently, bringing farm animals on flights as emotional support is a thing, which is great news for anyone who is traveling with children. Not only would having an adorable little duck by my side make me feel better, my kids' comparative lack of quacking would make them seem like angels.
Except maybe not, because according to Mark's hilarious tweets detailing his flight, the duck – whose name is Daniel – comported himself admirably.
(Essig actually has a bit of a duck in this fight, being that he's clearly a friend to animals – his twitter avatar features him posing with a pig, and he's the author of 'Lesser Beasts: A Snout-to-Tail History of the Humble Pig'. Which I think is mostly about eating pigs? Still: animals!)
According to a story on ABC7 in Milwaukee, Daniel belongs to Carla Fitzgerald, to whom he was prescribed to help with the PTSD she began suffering after a serious accident in 2013. Her doctor noticed that Daniel helped Carla stay calm and prevented panic attacks.
After taking a plane ride with him, Mark and his fellow passengers can now see why.
Apparently Daniel spent the flight delighting Mark and other passengers, happily wagging his tail and staring out the window at the clouds, which, hello, you can fly among them without riding in a plane, genius! I'm sorry, I shouldn't snap at him. He seems like a fine fellow, if independently wealthy? (Plane tickets ain't cheap!) I'm just frustrated that he's a better flier than my six-year-old, and he doesn't even need an iPad to sit still.
But it's bad enough that a freaking bird is better-behaved on planes than my six-year-old, but he also wears adorably chic little red shoes that make my son's Keds look so blah by comparison.
h/t Mashable
[free_ebook]
This article was originally published on