This Dad Quit His Job To Make Beds For Kids Who Had None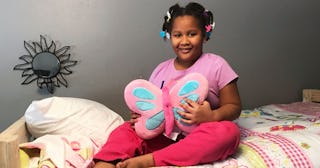 Courtesy of SHP Beds
In 2012, Luke Mickelson found out about a family in his community that was sleeping on the floor. "This little girl had a nest of clothes, it looked like a little bird's nest. And that's what she slept on, that's what her bed was," he told CNN.
So instead of simply empathizing with the family's struggles or feeling bad for them, Mickelson decided to do something about it.
That's right: He made the family beds. "When we delivered the bed, she hugged it and just couldn't let go."
That moment changed Mickelson in ways he didn't expect. He started to look around his tight-knit Idaho community, only to realize that a lot of children were sleeping in similar conditions. Because the unfortunate reality for many low-income families is that sleeping in a bed is a luxury they cannot afford.
This isn't a new phenomenon, either. A good friend of mine in high school, back in the '90s, refused to allow me to go into his room for the first years I knew him. It wasn't until he finally trusted me, that he revealed that he slept in a sleeping bag lined with holes on the floor of his grandmother's small two-bedroom apartment. When I asked him why he didn't have a bed, he shrugged, and said, "We just don't have the money."
I was shocked.
Born and raised in Idaho, Mickelson, now 41, had the same reaction, only he decided to do something about it.
"I had no clue about what the need was," Mickelson told CNN. "There's kids next door whose parents are struggling just to put food on the table, clothes on their back, a roof over their head. A bed was just a luxury."
So rather than thinking about doing something, he went ahead and did something. How cool is that? He used his daughter's bed as a template, bought some wood, and started making beds.
Now clearly Mickelson has a talent for carpentry because the last time I tried to fix something around the house I started swearing so much my wife had to take the kids out of the house, and even then, I still had to call a plumber. But Mickelson is obviously a pretty handy guy (you can trust his beds), and by the end of the first year, he'd built 11 beds in his garage. This is pretty impressive compared to the zero beds I've built in my garage.
But it gets better. The next year, he made 15.
By 2017, he'd made 612 bunk beds.
Yeah, I paused at that number, too, because it's amazing. These are bunk beds, so multiply that number by two, and you will realize how many children he helped. But honestly, how do you do you make that many beds while raising a family and working a full time job?
Well, if you're Luke Mickelson, you quit your job.
Mickelson was so inspired by the work he was doing for these families he actually quit his full-time job to make bunk beds for low-income families. What a freaking stud. Now, his non-profit Sleep In Heavenly Peace has 65 chapters across the United States that have built and delivered more than 1,500 free beds.
I don't want to state the obvious, but this right here is what change looks like. I can think of very little that is more basic than a bed. But children need them, and there are families that struggle to provide them. It's a fact.
Sleep In Heavenly Peace averages 25 requests for beds each day. That's just over 9,000 families a year in need reaching out for help. Imagine how many of those families are in your city.
Mickelson told Scary Mommy he helped deliver a bed during Christmas back in 2012, and it was during that first delivery that he realized there were children in his town that needed help.
"My first delivery was what sparked me into action," he said. "I couldn't stand thinking of a child sleeping in those conditions, especially if I had something I could do about it. Our mission statement is 'No Kid Sleeps on the Floor in Our Town,' and we just want to make our town everyone's town."
"When we deliver a bed, that's where the rubber meets the road. We make sure that they understand that, 'This is your bed. This is yours. This is a possession of yours,' you know? The underlying tone is, 'We're here for the child.' You walk in and these kids are just so excited. They want to help build it. They want to run the drills. They want to bring in wood. Just giving a kid a sense of ownership, a sense of responsibility, as well as a good night's sleep, is tremendous for them. They learn how to take care of things. They learn value. They get confidence, and they get a good night's sleep."
When asked how to best get involved, Mickelson urged folks to contact their local chapter, donate money, or volunteer time helping build or deliver beds.
And to be honest, it's a pretty simple thing — a bed. It's a small comfort that so many people take for granted, but the thought of children going without something so basic is pretty hard to imagine.
If you'd like to help, and I hope that you do, check out the Sleep in Heavenly Peace website, find your nearest chapter, and ask for more information on making sure no one in your town sleeps on the floor.
This article was originally published on