Bystander Risks Life To Save 1-Year-Old Who Fell Onto Subway Tracks
by Ashley Austrew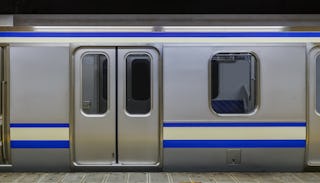 Imagine this: you're in New York City and about to board a crowded subway train when you see a baby fall onto the tracks. What do you do? That's the question dozens of people were faced with earlier this week when a one-year-old bounced out of her stroller and became the subject of a daring rescue effort.
One-year-old Tabrina had been riding on the subway with her grandmother, Pamela Ferrell, but when the train stopped, Ferrell struggled to get Tabrina's stroller out onto the platform. Another passenger offered to help her lift the stroller, but it tipped in the process and Tabrina fell out. She fell between the train and the subway platform and landed directly on the tracks with just minutes before the train would start again. Enter: our hero, Herman Mcgarrah.
Many bystanders attempted to reach Tabrina, but when their efforts failed, Mcgarrah actually lowered himself down onto the tracks and crawled underneath the train to reach her. He told news outlets, "It was dirty, I was scared, I was kind of shaking. Once I got down there, I said, 'Please, God, don't let the train move.'" In the end, the commotion got the attention of transit officials who held the train. Mcgarrah's rescue attempt was successful and both he and Tabrina emerged unscathed.
Mcgarrah posted about the crazy series of events on Facebook but says he never expected his good deed to get so much attention. He's been overwhelmed with well wishes and requests for interviews by local media outlets. According to PopSugar, Mcgarrah is a bus driver who's struggled with addiction and he feels incredibly proud that he was able to step in and help out in this situation. He said rescuing the baby felt like "redemption" for his past mistakes and that he now knows his "life hasn't been in vain."
I'd love to be able to say that anyone in Mcgarrah's shoes would have acted as quickly and as selflessly as he did, but I'm not so sure. In fact, New York Magazine even reports another bystander was trying to help, but then panicked and ran away. Jumping down under a train that could start moving at any moment is terrifying, and Mcgarrah put himself in harm's way without a second thought. That's a rare kind of heroism.
We live in a time where it's so easy to sit back and let things be someone else's problem. Even in situations where people are facing immediate danger, it's still just practically unheard of for a complete stranger to put their own life at risk in order to save someone else. Mcgarrah may not feel deserving of all the attention, but he did something truly amazing and he should feel extremely proud.
This article was originally published on