Genius Thinks Of A Way To Never Lose His Luggage, And Wins The Internet
by Maria Guido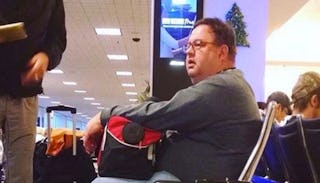 Black luggage abounds at any baggage carousel. Now, so do those little neon straps everyone uses to somehow mark their bag as "different" so they have an easier time finding it. As a totally non-scientific experiment, count how many black pieces of rolling luggage you see with a yellowish green neon strap hanging from the handle next time you travel. Spoiler alert: there's a lot of them.
RELATED: 26 Best Kids Luggage Pieces For Your Next Family Vacation (Whenever That May Be)
Enter this genius, who thought of a way to make his luggage truly different — and totally win the internet.
This image has been viewed nearly two million times in less than a day — because it's basically the best thing, ever. Who is this guy? No one is taking his luggage, dammit. And yes, he's wearing socks with sandals, because comfort — do you have a problem with that? Talk to the disgruntled face staring at you from the luggage you're not mistakingly taking.
Some of the comments on the image are insulting, as one can imagine. The internet is not a kind place – and this guy does not fit the usual description of a person who would be plastering their own image over items they own. That's what makes him so great, in my opinion. He doesn't give a shit what you think. He rocks.
Traveling parents — take a cue from this guy: get some custom luggage. Your kids will love it and it will be one less thing to worry about when you are at the luggage carousel. That's about the time in the trip when all kids start to lose their shit, need to use the bathroom, and want to be held. "Stand next to mommy and keep an eye out for your smiling face, honey!" All kids love to see their own faces. Little narcissists.
They're a little pricey — around $200 for a medium sized carry-on — but this is the luggage customization of the future, isn't it? If anyone ever finds this guy he may be able to sell a line of luggage — with his face on it.
This article was originally published on