Mandy Moore Announces Pregnancy With Adorable Bump Pics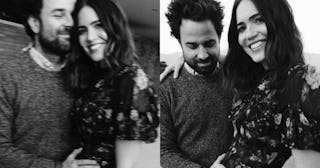 Instagram/Jenna Jones
Mandy Moore announces pregnancy on Instagram
In these uncertain and often, dark, times — we love a good celebrity baby announcement to brighten the day. There's nothing quite like professional photography and two very pretty people excited about their future, so a big thank you and congratulations are in order as This Is Us star Mandy Moore is expecting her first child. Today, Mandy Moore and her husband Taylor Goldsmith announced they are having a baby boy, and to celebrate, Goldsmith wrote a song about it.
"Baby Boy Goldsmith coming early 2021," Moore and Goldsmith captioned matching Instagram posts on September 24, 2020.
https://www.instagram.com/p/CFh5kwLg8ja/
Even cuter still, Moore's husband — who is also the front-man for the folk-rock band Dawes — wrote a little ditty to celebrate the announcement of his son's impending arrival.
https://www.instagram.com/p/CFiGXzjJB1_/
"I've been thinking about the kids' books that I really enjoy, all the little outfits and my favorite toys, were making room in our dance so someone else can join, me and Mandy gonna have a little baby boy," Goldsmith sang in the sweet video tribute.
Moore and Goldsmith met in 2015 (through Instagram, of all places) and wed three years later in November 2018. "We have a modern kind of love story," Moore told InStyle last year. "But if someone would have told me three years ago, 'That's your future husband, and you're going to meet him through Instagram,' I would have thought that they were absolutely bonkers. It proves that you have to stay open-minded because you just never know."
In 2018, Moore talked to Glamour about meeting Goldsmith in the aftermath of her divorce from Ryan Adams and said that he was so "steadfast" that it gave her hope for their future. "I can imagine no better partner. He's going to be the most tremendous father."
Congratulations to the happy couple.