Mandy Moore's Breast Pump Was Her 'MVP Accessory' For The Emmys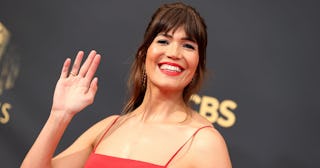 Rich Fury/Getty
New mamas need to be ready to gooooooo, dude
Mandy Moore posted a pic of her breast pump before the 2021 Emmys. The This Is Us star captioned the Instagram Story of her pump, "Tonight's MVP accessory!" Moore later uploaded a photo of her stunning red look (sans pump) to her Instagram feed.
She makes that pump look fancy AF.
The star became a mom to sweet Gus in February. "He was punctual and arrived right on his due date, much to the delight of his parents," the actor/singer said her Instagram followers at the time.
"We were prepared to fall in love in all sorts of brand new ways, but it goes beyond anything we could have ever imagined."
Moore has been open about life with Gus. "Breastfeeding is not always smooth sailing (clogged ducts, timing life around feedings, pumping for when I'm at work, etc… ) but nursing this baby boy for the past nearly 6 months has been a beautiful, messy and an oh so rewarding experience I will treasure forever," Moore captioned a photo of her feeding Gus for National Breastfeeding Week.
"It goes without saying that #fedisbest and I'm grateful to my body and the tremendous support I've had around me (especially in the beginning days and weeks when I had no clue what I was doing) for allowing me this time to nourish my sweet guy."
In June, Moore uploaded a sweet picture of Gus on the set of This Is Us. Her costar, Sterling Brown, can be seen lovingly cradling the tiny babe as Moore laughs. "My two sons," Moore captioned the photo.
The new mom has made sure to pay it forward, posting a rallying cry to shine a spotlight on women who've been displaced from the workforce due to the pandemic.
"Over 2 million women have either lost their jobs or been forced to leave the workforce since the start of the pandemic. It's our collective responsibility to ensure that women have access to safe, fair, flexible, and dignified employment opportunities."
The doting mama recently celebrated little Gus' six-month birthday with an adorable snapshot.
"6 months with the happiest, sweetest guy and the most indescribable, unconditional love. We are the luckiest and love you so much, Gus!"