Mandy Moore Speaks Out On Ex Ryan Adams And His 'Psychologically Abusive' Behavior
by Thea Glassman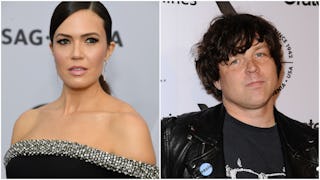 Image via Getty/Kevin Mazur/Getty/Jason LaVeris
Mandy Moore spoke out about her ex-husband Ryan Adams' "psychologically abusive" treatment
A disturbing report was released by The New York Times last night, featuring interviews with seven women who say that singer/songwriter Ryan Adams emotionally abused and harassed them. Mandy Moore, who was married to Adams from 2009-2016, was one of the brave women who spoke out about her experience. She later took to Instagram to explain just how painful and necessary it was to share her story.
Moore was 23 when she met Adams, and he offered to collaborate on her upcoming album. He told her not to work with other producers or managers, leaving him completely in charge of her career trajectory. Adams would write songs with Moore but not record them. He would schedule studio time for the two of them and then replace her with another female singer. He treated her in ways that were "psychologically abusive."
"He would always tell me, 'You're not a real musician, because you don't play an instrument,'" Moore recalled. This abusive treatment had a significant impact on Moore's singing career. "His controlling behavior essentially did block my ability to make new connections in the industry during a very pivotal and potentially lucrative time — my entire mid-to-late 20s," she said.
In response, Adams told the Times through his lawyer that Moore's account was "completely inconsistent with his view of the relationship." He added that he was supportive of her "well-deserved professional success."
Moore's story was one of the multiple awful accounts shared in the piece. Megan Butterworth, Adams' ex-fiancée, said that the singer was emotionally abusive and would try to intimidate her by smashing things. When she broke up with him, he sent her hundreds of angry text messages, threatened to commit suicide, and threatened her with lawsuits.
Adams allegedly showed similar behavior with musician Phoebe Bridgers. He offered to collaborate with her, started sending her flirty text messages, and the two began a romantic relationship. Then, the abusive text messages began. Adams started demanding that she tell him where she was, that she have phone sex with him, and then would threaten to commit suicide.
He also allegedly engaged in sexual conversations with a minor, who was a fan and an aspiring musician. While she occasionally lied about her age to him, he still seemed to know that something wasn't quite right because he texted her: "If people knew they would say I was like R Kelley lol" and "i would get in trouble if someone knew we talked like this."
Adams has since apologized…but only kind of. "I am not a perfect man and I have made many mistakes. To anyone I have ever hurt, however unintentionally, I apologize deeply and unreservedly," he tweeted. "But the picture that this article paints is upsettingly inaccurate. Some of its details are misrepresented; some are exaggerated; some are outright false. I would never have inappropriate interactions with someone I thought was underage. Period."
After the story was published, Moore took to Instagram to share an important, powerful message. "Speaking your truth can be painful and triggering but it's always worth it," she wrote. "My heart is with all women who have suffered any sort of trauma or abuse. You are seen and heard. #sisterhoodforever."
And, Moore noted to the Times, she's not going to allow her ex's controlling behavior to impact her love of singing. "I want to make music," she said. "I'm not going to let Ryan stop me."
This article was originally published on