March Was The Second Busiest Month Ever For Gun Sales
by Christina Marfice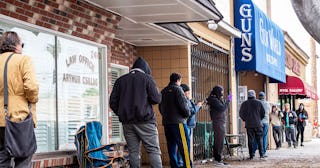 MediaNews Group/Pasadena Star-News/Getty
Amid uncertainties about the coronavirus, Americans race to buy guns at nearly unheard-of rates
As fear and uncertainty about the novel coronavirus and its effects on our daily lives spread around the globe last month, toilet paper and shelf-stable foods weren't the only things Americans were clearing store shelves of. A New York Times analysis shows gun sales also skyrocketed in March. In fact, Americans bought more firearms during the month of March than they have in almost any other month in recorded history.
Gun sales totaled around 2 million last month, just barely fewer sales than the record-holding month, January 2013, when Barack Obama was freshly reelected and the school shooting at Sandy Hook Elementary sparked fears of a crackdown on firearms purchases.
Experts think the huge rise in sales is because people are worried that civil unrest could be coming as more and more people get sick and important businesses and institutions stay closed.
"They may have an anxiety about protecting themselves if the organs of state are starting to erode," Timothy Lytton, a law professor at Georgia State University and an expert on the gun industry, told the Times.
While guns certainly won't protect anyone against the virus, the Times reports there has been a rise in gun-related crime connected to people's fears of becoming sick. For example, a man in Alpharetta, Georgia, was arrested after he pointed a gun at two women wearing masks and gloves because he said he was afraid they would infect him. In New Mexico, a man was charged after allegedly accidentally shooting his 13-year-old cousin while carrying a gun "for protection" during the pandemic. And in Maine, a convicted felon who was accused of illegally possessing firearms told police he needed them to protect himself during the outbreak.
On social media, people all over the country have posted pictures of long lines at their local gun stores.
The run on firearms has some states considering whether gun stores should count as "essential" businesses that are allowed to stay operating while other businesses are forced to close to enforce social distancing. Not only is it a public health concern to have so many firearms circulating in a population, but it's arguably a bigger one that people are crowding into small stores and standing close together in lines. If people are going to insist on standing in line for weapons, the least they can do is stay 6 feet apart.