School Marching Band Members Spell Out Racist Slur During Halftime Show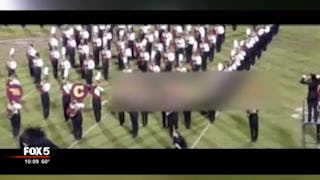 Image via FOX 5
Brookwood High's principal has apologized for the marching band's actions
A principal is apologizing after members of a high school marching band used their instruments to spell out a racial slur during a halftime show Friday. He says the students are facing disciplinary action, but a letter to students, parents, and community members seemed to imply that the event was an accident.
A handful of students who are members of the band at Brookwood High School in Snellville, Georgia, used the instrument covers on their sousaphones to spell out a four-letter racial slur. The covers are normally used in the stands to spell out "BRONCOS," which is the school's mascot. The students were arranged this way long enough for people to get photos that were posted to social media.
In a letter sent to parents, students, and community members, Brookwood High School Principal Bo Ford apologized for the incident, saying those lettered covers are not typically worn onto the field during halftime shows, because the band marches in formations that result in the letters being out of order. He said at Friday's game, the band director was busy with a "personnel issue" and did not go with the band onto the field.
"When the sousaphone players took the field, they did not follow band rules and normal practice, and instead, they left the covers on their instruments," Ford wrote. "Unfortunately, as they performed and moved around the field, the letters on the instruments aligned to spell a completely unacceptable, racial term."
That sounds like he's saying this wasn't done intentionally, right? But later in the letter, Ford states, "We will also be taking disciplinary action with the students involved." From his letter, it's unclear whether the school is treating this as an intentional act by the students, or just a very unfortunate accident.
Shawn Myers, mother of a freshman member of the marching band, told FOX 5 she didn't think this was a mistake.
"You're bold enough on senior night, that means your parents, your grandparents are there… you're bold enough to spell those words, and stay there long enough to have everyone take pictures?" she said. "That's not right."
Reports haven't said what "disciplinary action" the students involved will face, but Myers said she'd like to see them expelled.
"I will not stop until these students are expelled," she said. "They do not need to be back in that school until they learn that everyone is there for the same reason – regardless of color – to get an education."
This article was originally published on