There's Going To Be A Live-Action Barbie Movie Starring Margot Robbie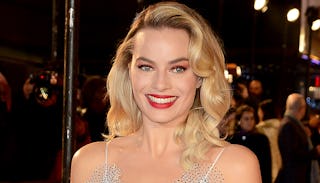 Image via Dave J Hogan/Dave J Hogan/Getty Images
Robbie will also produce the film — because everyone knows Barbie's had a number of careers
After media giant Warner Bros. and toy giant Mattel officially closed the deal today, it's official that Margot Robbie will be starring in a live-action Barbie movie to be released sometime next year. Yes, we've always heard that an actual human being could never have Barbie's crazy proportions and live to tell the tale, but Robbie probably comes pretty close.
"Playing with Barbie promotes confidence, curiosity and communication throughout a child's journey to self-discovery. Over the brand's almost 60 years, Barbie has empowered kids to imagine themselves in aspirational roles from a princess to president," Robbie said. "I'm so honored to take on this role and produce a film that I believe will have a tremendously positive impact on children and audiences worldwide. I can't imagine better partners than Warner Bros and Mattel to bring this film to the big screen."
And we can't really think of anyone who looks more like Barbie right now.
The move comes after over a decade of failed attempts by Mattel to make Barbie into a movie franchise, as competitor Hasbro Inc. has been extremely successful with film versions of their My Little Pony and Transformer toy lines. It also comes after Mattel made a new film division to concentrate on moviemaking apart from toy making.
Robbie is coming off of a hugely successful portrayal of Tonya Harding in the indie biopic hit I, Tonya, which landed her an Oscar nomination (and which she also produced). She will shoot a new Harley Quinn film, Birds of Prey, next month, before beginning her stint as a life-sized doll.
"Barbie is one of the most iconic franchises in the world and we are excited to partner with Warner Bros. Pictures and Margot Robbie to bring her to life on the big screen," said Ynon Kreiz, chairman and CEO of Mattel. We look forward to building on this collaboration with Warner Bros. Pictures as we tell the stories of our beloved brands. Mattel Films is on a path to demonstrate the enormous potential of our brand portfolio, as we continue to execute on our strategy of transforming Mattel into an IP-driven, high performing toy company."
Mattel has battled for over a decade to keep Barbie popular and relevant in a world where parents sometimes see the doll as promoting impossible standards and perfectionism. A new line of Barbies that aren't blonde and thin with huge boobs has helped, but the company has long wished for more avenues for improving the brand's current image.
In 2017, a Barbie movie starring comedian Amy Schumer was scrapped after it struggled to get off the ground.
Reactions to the announcements were mixed — sometimes even within in the same tweet – and that sounds about right.
TBH, we're pretty pumped about it. Come on Barbie, let's go party.
No word on who will play Ken yet, but we have our list. And we're sure you do, too. Chris Pine, maybe?