Photo Mark Zuckerberg Shared Of His Wife Is The Definition Of 'Pregnancy Glow'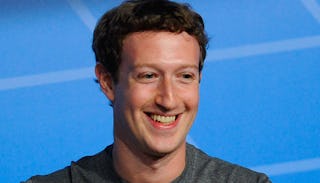 As we all know by now, Facebook CEO Mark Zuckerberg and his wife Priscilla Chan are expecting the first little heir to their billion dollar throne. The pair have been very open about their relationship and family, and Zuckerberg's latest post is no different. In fact, it gives us such an intimate look into the pair's union that we've got ourselves some new #relationshipgoals.
Zuckerberg shared a photo of himself and Priscilla taken by famed photographer Annie Leibovitz. In it, he's cradling his pregnant wife's belly as she gazes at the camera. He captioned the photo, "This is a stunning photo of Priscilla. I love her expression: intense yet kind, fierce yet loving, leading yet always supporting others."
Do you need a second to pick yourself up off the floor from aww-ing too hard? It's cool — I did too. Before you recover too much, here's another adorable behind-the-scenes photo. Seriously, how cute are they?
Chan and Zuckerberg made headlines over the summer when they revealed not only Chan's pregnancy, but also her past miscarriages and the difficult road they've had to starting a family. In the July announcement, Zuckerberg wrote that the couple had weathered three previous pregnancy losses, and they decided to share their struggles in order to "create understanding and tolerance" about miscarriage and "to help more people feel comfortable sharing their stories as well."
This latest share — which has been liked almost 700,000 times — has been met with lots of well wishes and appreciation for their continued openness. Wrote one commenter, who presumably experienced a loss, "After going through one of the hardest things in our lives, it was even more difficult to come back and tell the story. Thank you for spreading positivity with your courage and openness. You are beautiful people."
Zuckerberg and Chan's excitement over their baby is palpable and their warmth towards each other is so, so sweet. It's impossible to not want to celebrate with them. They don't owe us this photo, the intimate details of their lives, or his beautiful words about what an amazing person his wife is, but they share it any way because they believe in the way it brings us all together.
It's inspiring and beautiful to watch two people be so open about their admiration for one another and their happiness. They're truly a model of love, support, and commitment, and this photo captures all of that in the simplest, most beautiful way. Best of luck to them throughout the rest of Priscilla's pregnancy and beyond.
(Feature image via Getty/David Ramos)
This article was originally published on