Mrs. Claus Is The Brains Behind The Braun In This Holiday Ad The Internet Is Loving
by Mike Julianelle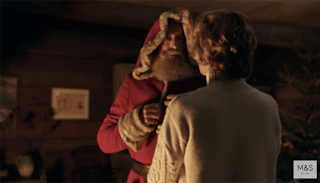 New ad from Marks and Spencer highlights the sibling bond – and an efficient Mrs. Claus
Christmas is a magical time of year, especially if you have children. Especially if those children are often at each other's throats. A heartwarming new ad from UK retailer Marks & Spencer shows how the holiday can heal even the most contentious sibling rivalry, all with a little help from the woman behind the Santa.
According to a story in The Telegraph, the new ad, which showcases a go-getting Mrs. Claus doing some stealthy behind-the-scenes Christmas Eve work while her husband sleighs it around the world, highlights the way Christmas, and a well-intentioned gift, can soothe the wounds of everyday brother/sister angst.
In the ad, an adorably rambunctious six-year-old is seen terrorizing his older sister, including getting her favorite sneakers torn up – with a little help from Tiger, the family dog. Big sis is none too happy with her little bro, at least not until Mrs. Claus takes a helicopter through the night to drop off the brand-new sneakers her brother specifically requested for his sister.
The ad, which features Oscar-nominated UK actress Janet McTeer (Tumbleweeds) as a fashionable, kind-of secretly bad-ass Mrs. Claus, is a result of a new campaign from the UK retailer to imbue the season with "warmth, empathy and a touch of humour presented in a modern and contemporary way", said Mr Bousquet-Chavanne, the company's excecutive director of customer, marketing and M&S.com.
"[Mrs. Claus] epitomises the huge efforts our customers put in to making the festive season special and represents the love and togetherness that customers want to feel and see in abundance at Christmas", Mr Bousquet-Chavanne.
There's no doubt that this dynamic Mrs. Claus is a new take on Santa's wife (she's spotted reading "50 Shades of Red" near the end of the ad), but as a parent, the thing that really resonated with me was the bond between the two kids.
When I was growing up and I asked my parents what they wanted for Christmas, they inevitably replied, "For you and your brothers to get along." Which we never took seriously because not only is that not something we could make in art class or buy at the mall, it was also impossible. We were constantly at each other's throats. I turned 40 a few months ago, and after I see my brothers this Thanksgiving and we inevitably argue about football or movies or why on earth Mark needs three helpings of turkey, I'm pretty sure my parents will still ask us to get the same thing this Christmas.
As the father of two young boys, I can only hope that amidst what is bound to be years of rivalry and competition and bickering, there are moments of thoughtfulness and love like the kind we see in the ad.
Unfortunately there aren't any Marks & Spencer stores near me, so I guess I'll have to wait a while. Unless Mrs. Claus is reading this…
This article was originally published on