Considering Marriage Counseling? Here's Where To Start And What To Expect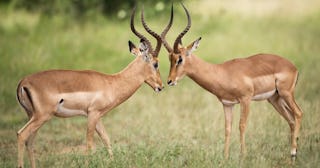 Vincent van Zalinge/Unsplash
Marriage is incredibly hard work, and anyone who tells you otherwise is lying. Even if you're 100 percent in-sync with your spouse, have the same likes and dislikes, and are on the same page regarding how to raise children (or whether to have them at all), there's always going to be something else that comes up — a pandemic and quarantine for months on end, for example. But disagreements don't necessarily need to be the end of a marriage. Sometimes marriage counseling is a really great, effective option for getting your relationship back on track. Also referred to as "couples therapy," "couples marriage counseling," or "marital counseling," marriage counseling is a type of psychotherapy, where you work with counselors with special training — typically licensed marriage and family therapists. If you're new to marriage counseling — or therapy in general — you probably have a lot of questions. But don't worry, we're here to help. Here's what you need to know if this is something you and your partner are considering.
What Is Marriage Counseling?
The goal of marriage counseling is to be able to sit down with your partner and an objective third-party in order to identify problems in the relationship, come up with a strategy to solve them, and ultimately improve the marriage, according to the Mayo Clinic. Marriage counseling can take many forms: Sometimes only one partner works with a therapist, but more commonly, all members of the marriage are present. And while marriage counseling is usually short-term, some couples use it as a regular check-in for their relationship to make sure everything continues to run as smoothly as possible.
What is the difference between marriage counseling and couples therapy?
What sets marriage counseling and couples therapy apart is in their approach. The two terms are often used interchangeably but actually have distinct styles. While marriage counseling works through current problems that have risen in the marriage, couples therapy takes a micro look at your whole relationship to determine how and why those issues have bubbled up the way they have now.
When to Get Marriage Counseling
If you're considering marriage counseling, you may be wondering if it's the right option for you and your spouse at this point in your relationship. While there's no hard-and-fast rules about who should attend the sessions, here are seven reasons you might want to look into it, courtesy of Donna M. White, LMHC, CACP at PsychCentral and the Mayo Clinic:
Your communication has deteriorated.
When one or both partners is either considering an affair, or is having/had one.
When you feel more like roommates than spouses or romantic partners.
When conflicts arise where you can't settle your differences on your own and need some type of mediation — specifically if it involves having children, or how to raise children.
When one partner begins to act out on negative feelings.
When the only option appears to be separating from your spouse.
When you're staying together only for the sake of your children.
When one or both partners is experiencing sexual difficulty.
If one or both partners is having problems with substance misuse.
When anger has overtaken all other aspects of the marriage.
How to Find a Marriage Therapist
So, you've decided to go ahead and make an appointment. That's a great first step! Now you just need to find someone who both you and your partner agree on. According to the Mayo Clinic, here's what you should take into consideration when picking a marriage therapist:
Education and experience: What is the person's educational and training background? Are they licensed by the state? Are they credentialed by the American Association for Marriage and Family Therapy? What is their experience with our type of issue?
Logistics: Where is their office? What are their office hours? Are they available in case of emergency?
Treatment plan: How many sessions do they expect you to need? How long is each session?
Fees and insurance: How much do they charge for each session? Are their services covered by your health insurance plan?
What to Expect During Marriage Counseling
Like individual therapy, marriage counseling looks different for every couple. But in general, you should expect to be open and honest about your relationship with both the therapist and your partner. Yes, this means talking about the good times and the bad ones, too. Doing so is the only way that you'll be able to identify problems in the marriage (without necessarily assigning blame) and come up with solutions to work through them.
For the process to work, both partners have to be open and want to be there — it won't work if one person has one foot out the office door. It's also important to know ahead of time what you as a couple are seeking during therapy. Do you want to grow together as a couple? Do you need a mediator to help with conflict resolution? It's good to know what the expectations are ahead of time. Finally, couples counseling, like therapy, can only work if you are truly honest with yourself, your partner, and the therapist. This is the place to lay it all on the table.
The process may seem difficult and daunting (and it can be), but even just looking up this information is a step in the right direction.
So, how effective is marriage counseling?
The good news is that per studies by the American Psychological Association, couples counseling has a positive impact on nearly 75 percent of the couples who participate in Emotionally-Focused Therapy (EFT). That includes couples in high stress relationships like military families, couples dealing with infertility, or parents of chronically ill parents and children.
Writing for Psychology Today, Dr. Dianne Grande Ph.D. says abusive relationships "should not expect improvement in therapy until the abusive behavior stops. Separate therapy is often recommended for each partner in order to work toward self-control or to maintain safety, depending on the individual's needs."
Quotes about marriage counseling
"At your absolute best, you still won't be good enough for the wrong person. At your worst, you'll still be worth it to the right person." ― Karen Salmansohn
"Lack of communication can drive a spike between two people wider than any physical distance." ― Mark W Boyer
"Trustworthy relationships are built on a foundation of goodwill. Couples with solid trust are able to give each other the benefit of the doubt in conflict, and they weather conflicts more easily because of it." ― Gina Senarighi, Love More, Fight Less: Communication Skills Every Couple Needs: A Relationship Workbook for Couples
"Then the more reliable and consistent we are in our follow through on commitments, and our relationship repair work the deeper trust grows." ― Gina Senarighi, Love More, Fight Less: Communication Skills Every Couple Needs: A Relationship Workbook for Couples
This article was originally published on