I'm Happily Married, But Neither Of Us Wear Rings
by Christine Organ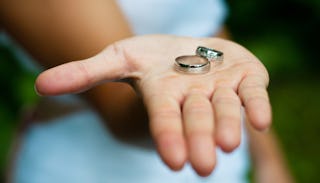 Shutterstock
Nearly 14 years ago, my husband surprised the hell out of me by getting down on one knee and pulling out a box with the most beautiful diamond ring I had ever seen. Of course, I said "yes." Actually, I shrieked, "Yes! Yes! Yes!" while jumping up and down like a little girl.
I was in love with this man, over the moon at the idea of being married to him — and I still am.
But that gorgeous stunner of diamond ring?
Well, it's been sitting in a jar of jewelry cleaner somewhere in my bedroom for the past year. I think. I haven't checked in a while because, quite frankly, I don't give a shit about my engagement ring.
Back then it was hard to imagine a day when I wouldn't wear that ring. In fact, for years, I never took it off. I love to think about all the covert trips to the jewelry store my husband made before proposing, how he picked out the perfect ring on his own simply by picking up on not-so-subtle hints and paying attention to my general style preferences. I like to think of the young and carefree people we were back then before things like mortgages, kids, and health problems entered the picture.
But for a while now, I've also been thinking of selling that hunk of metal and stone.
Let me be very clear: My husband and I are very happily married. In fact, maybe it's because our relationship feels more secure than ever that I'm willing to part with the ring that kicked off our marriage journey. But that ring isn't who I am anymore, and it doesn't reflect who we are as a couple either.
I have never been particularly attached to rings as a sign of marital commitment. My husband hasn't worn his wedding band since about a month after our wedding, and I couldn't care less — truly. He abhors jewelry of all kinds, so to ask him to wear something that would cause him constant discomfort feels silly and unkind.
The ring also feels like a colossal waste of resources. It doesn't fit on my finger all the time (thanks, hormonal water retention!), and it feels extravagant and distasteful, especially in light of the diamond industry's sketchy history. Although the control of the De Beers cartel has diminished in recent years, and through the Kimberly Process, diamonds can be certified as conflict-free, my own doubts about the legitimacy of the diamond industry and concerns about the extravagance of diamonds continue.
But even more than that, the person I was back then isn't the person I am now. I'm far less concerned about luxuries and more concerned about generosity now. I'm more of a minimalist, and I prefer experiences over possessions. When I think of all the hungry people that could be fed with that one ring, I want to run to the local jewelry store to sell it on the spot.
My husband and I talked about our wedding rings the other day. His wedding ring has long since been lost (voluntarily misplaced?), and we joked about me losing mine. Given that we pay premiums each year to insure this ring that I no longer wear, it seems kind of silly to own it at all.
"Why don't we just sell it?" I asked. "Think of all things we could do with that money. We could donate it to the ACLU or help a refugee family resettle or…"
"It's your decision," my husband said. "But I'm totally on board with selling it. We could get something cheap and practical that represents who we are now."
"That sounds great," I said, and it does sound great. But when I think about actually selling it, I wonder if it would feel as great as it sounds. Isn't the sentimental value worth something? Would I regret selling something that represents our past? Would I miss wearing this admittedly stunning bauble?
As I mentioned before, I don't attach much significance to rings as a sign of a marital bliss. Although my husband hasn't worn his for years, we are both comfortable, confident, and happy in our marriage. He shows his commitment to me and our family in meaningful ways that far exceed a band of metal around a finger. As a couple, and as individuals, our priorities have shifted as well. These days, we both care far more about helping others than trinkets and baubles. My engagement ring doesn't represent who I am as a person, and I feel much more comfortable wearing my simple wedding band that only cost a couple hundred dollars.
And yet, I'd be lying if I didn't say that there was something holding me back, something akin to childlike romanticism and maybe even a touch of selfishness. You see, my engagement ring is the only physical reminder I have of my husband's marriage proposal — there are no photos, videos, or other mementos of the occasion. My engagement ring reminds me of this early romance of our relationship, when the possibilities for our lives together seemed limitless. As our lives have become consumed with kids, jobs, and the general messiness of life, my engagement ring has served as a kind of personal fairy tale to me.
But given that it currently sits at the bottom of a jar of cleaning solution, maybe my "fairly tale" has changed from one of romance and baubles to a fairy tale of adventure and a shared vision of the future?
I am still not sure what I'll do with my diamond engagement ring, but one thing is certain: Ring or no ring, my husband and I say "yes" to our marriage and each other every day, and that's stronger than even the heartiest metal and stone.
This article was originally published on