Marriott Is Eliminating Single Use Plastic Toiletry Bottles At All Its Hotels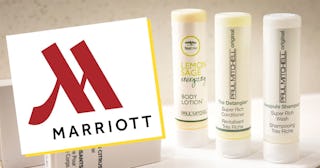 Marriott and Drew Angerer/Getty
Soon, you won't be able to steal all those tiny plastic toiletry bottles from Marriott hotels
In bad news for kleptomaniac travelers but great news for the planet, Marriott just announced a new initiative that's about to hit all of its hotels, all over the world. Gone are those tiny plastic toiletry bottles you're so used to seeing in your hotel rooms. Instead, Marriott will provide larger pump bottles or wall-mounted dispensers for shampoo, conditioner, and shower gel.
The company estimates that this simple change will keep 500 million tiny plastic bottles from going to landfills every year. That's a huge difference for a change that will hardly affect customers at all.
Marriott is the world's largest hotel chain, and this move may very well inspire other chains to follow suit. This is part of a larger overall plan to reduce the environmental impact its hotels have. The change should be fully implemented worldwide by December 2020.
People on Twitter are reporting that the tiny, single-use bottles have already disappeared from some U.S. Marriott locations. They'll continue to be seen less and less as the chain's hotels all over the globe make this transition, which we are fully here for, as much as we've always loved to snag those tiny bottles on our way to the check-out desk to have for future travels. Another unintentional benefit to come from this change is that people will be able to use as much shampoo and conditioner as they need. All my fellow long-and-thick-haired humans know those tiny bottles barely got the job done.
People are already taking note of the change at Marriott hotels and voicing their support for this plan to reduce the chain's overall impact.
"I actually prefer eliminating as much plastic in our environment as possible over any minor inconvenience or preference," a Boston guest told KYW Newsradio.
Eileen Curran, another Boston guest, was also in favor of the change.
"The little ones, they didn't replace them for the three days, so that by the end there's not very much," she said. "It's better for the environment and I'd rather have the big bottles anyway. I mean, it's fine — it's not like I take them with me."
It's great to see a huge, international chain taking its environmental impact this seriously, and we can only hope other company's will see the example Marriott is setting and follow suit. It's absolutely time for action, as scientists warn we're less than a generation away from irreversible climate catastrophe, and oceans are increasingly filling up with plastic pollution that's disrupting their ecosystems.