The First 'Mary Poppins Returns' Trailer Is Here And We're Squealing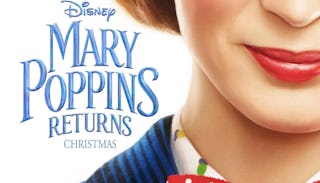 Image via Disney
Emily Blunt and Lin-Manuel Miranda star in the Mary Poppins sequel we all need
Last night's Oscars had some memorable moments, but for this lifelong musical theater nerd, none were as exciting as the release of the first teaser trailer for the new Mary Poppins movie during one of the show's commercial breaks.
Hours after my first 17 viewings, and the goosebumps on my entire body remain — it's that good. Emily Blunt stars in the role made famous by the legendary Julie Andrews, and in only a brief clip, it's obvious that she's going to do it justice.
Get ready for your heart to start beating like a big, brass band.
The new film is called Mary Poppins Returns and not only is the brilliant Blunt playing the title role, creative genius/extraordinary human Lin-Manuel Miranda co-stars as the new "Bert," but his name is Jack. He tells Variety his character, a lamplighter, was an apprentice to Bert the chimney sweep, and therefore, knows all about Poppins and her magic. "I know if Mary Poppins shows up, it's gonna get awesome. I perform that function in the movie, of saying: 'Y'all don't know about Mary Poppins. When Mary's around, cool shit happens,'" he said.
The film, set to hit theaters on Christmas Day, is a sequel to the original, not a reboot. It takes place during the Great Depression in London, about 25 years after the original. The trailer opens with a storm blowing through the streets and Jack trying to pull down a kite before realizing Poppins is on the other end of it. The Banks children (played by Emily Mortimer and Ben Whishaw) are all grown up and at the end of the trailer, we see Poppins inside a home with both Jane and Michael. "It's wonderful to see you," Michael says. Naturally, Poppins replies, "Yes, it is. Isn't it?"
IT IS.
The exciting casting doesn't end with Blunt and Miranda. The film also stars Meryl Streep, Angela Lansbury, and Colin Firth. And for devotees of the first movie, some extremely happy news — Dick Van Dyke will return to play Mr. Dawes Jr., a role his much younger self portrayed in the original thanks to some serious makeup and a fake, white beard.
Twitter is almost as excited about the upcoming film as I am.
So glad to hear I'm not alone with my terminal goosebumps. Is it Christmas yet?
This article was originally published on