These Adorable Outfits Let You Match Your Pup This Holiday Season
by Thea Glassman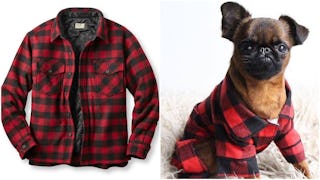 Image via L.L. Bean/Chewy.com
You and your dog can rock the exact same Christmas outfits this season
Wearing matching Christmas sweaters with your family is fun. But wearing matching Christmas sweaters with your dog? That's a whole other level of holiday cheer. Prepare for the best winter ever — and only a minimal amount of judgement from your friends.
RELATED: These Cute Dog Sweaters Are The Paw-fect Layer For Your Canine Companion
Let's start with these buffalo jackets, because hello cuteness. You can bring your pup along for all your outdoorsy pursuits and you'll both look rugged, comfy, and a whole lot like Paul Bunyan.
Here's the adult one from L.L. Bean.
And here's the doggo one from chewy.com.
Are you feeling hardcore into the holiday spirit? Have you been listening to "Santa Baby" since early November? This Christmas sweater for you and this matching Christmas sweater for your pup are the perfect way to live your best, merriest life. Side note: these ensembles are just begging for a holiday card photoshoot.
Want to take it one step even further? Both you and your dog can literally dress up like Santa Claus together. This is probably best done in the privacy of your home. Some people just might not understand.
Snag the adult version here.
And the pup version here.
If your family is getting a wee bit jealous about the whole matching sweaters thing, then I guess they can get involved. This pajama set is ultra cozy for the whole fam and your pup gets to rock some very cute snowflakes right along with the hoomans.
There's nothing comfier than a onesie. Bonus points that this number is bright red, covered in elves AND can easily match with your dog's brand new holiday outfit. Not to toot our own horns or anything, but there are probably few cuter things in this world than the image of us and our pup wearing the exact same onesie.
You can find the adult version here.
And the teeny-tiny doggo version here.
Now, go enjoy your most adorable holiday season. Your pup will (probably) thank you.
This article was originally published on