'So Fierce': Boy Steals The Spotlight From Barbie In New Commercial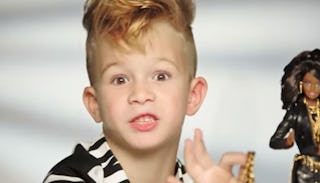 Image via YouTube
Designer Moschino and Barbie collaborated in creating the "Moschino Barbie," a limited-edition collector's item featuring a ready-to-wear collection of clothes for the doll. Along with its exorbitant cost of $250 on eBay (the doll is already sold out), what makes this new Barbie noteworthy is the inclusion of a boy in its commercial. It marks the first time a boy has been featured in a Barbie commercial in the toy's 56-year history.
The designer who came up with the concept for the ad is Jeremy Scott, and the boy in the commercial is styled to resemble him. Scott created the ad as a sort of parody of the 1980's Barbie ads we know and love. From CBS News, Scott says, "When I dreamed up the concept for the Moschino Barbie fauxmercial, I felt it was natural to have a little boy representing for all the little boys like myself who played with Barbies growing up. Barbie was more than a toy — she was a muse!" Check out the commercial, which is creating quite a stir on social media:
In a statement to the BBC, Mattel clarifies that the ad won't actually air on television, but is available on Moschino's YouTube page. It was created by them with Scott making the creative decisions. Mattel has largely received praised for breaking gender stereotypes and challenging the notion that certain toys are meant only for girls. From Forbes, Scott says, "Like every girl and gay boy, I loved Barbie." Ru Paul's Drag Race star Pandora Boxx echoes that sentiment saying, "This almost made me cry! I used to play with my sister's Barbies and felt such shame afterward. I'm so glad we can just let kids be kids. Thank you for this! Boys like dolls too!"
Naturally, the internet had a lot to say about it. Reactions to the commercial were mostly positive, but there were detractors as well. A few quotes from Facebook:
So the boys will play with girly-dolls and enjoy combing the doll's hair and then one-day they want to play with their own hair and say they want to be a girl and all you people will claim he was 'born that way' and turn him into a transgender.
Give me a break. PC crap gone mad again.
Same thoughts as you. First barbie sucks. Second why are they implying that the kid is gay?
ABSURD!!!!!! Out of line! It seems like people want to confuse the kids because I promise you, kids only know what they learn!!!! I will NEVER buy another Barbie in life!!!
None of these reactions are really a surprise, but it's still disheartening to read. Turning a child transgender? How utterly ridiculous. It's not "PC crap," it's progress. And they aren't "implying" the boy is gay, he's supposed to be modeled after Jeremy Scott, who is gay. As far as never buying another Barbie again, I guess that's her prerogative, but what a backward response. The world is moving forward in embracing and understanding people of all gender and sexual orientations. It would be nice if everyone joined in rather than stubbornly clinging to a dated view of the world. It never hurts to be loving and accepting of everyone. Why wouldn't a person want to support a company that makes a point of being inclusive?
I can only imagine how meaningful this ad is for boys who love playing with Barbie now and adult men who played with the dolls as a child. This commercial is a huge step and makes a powerful statement. We're finally heading toward a more open acceptance of boys playing with dolls and it's fantastic to witness. Hopefully, this will open the door for more and more toy companies to follow suit in their advertising, which may go a long way in changing minds and hearts.
This article was originally published on