Barbie's Got Back: Mattel Finally Let The Doll Put On Some Weight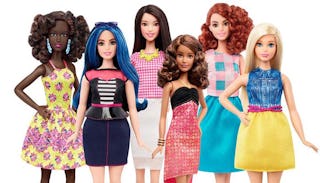 Mattel releases three new body shapes for Barbie
Barbie just got even more awesome. Today Mattel unveiled three new body types for the doll: tall, curvy, and petite.
"We have to let girls know, it doesn't matter what shape you come in," says Tanya Missad, Mattel's Director of Consumer Insights. "That anything is possible." The Barbie site adds, "girls everywhere now have infinitely more ways to play out their stories and spark their imaginations."
There's an argument that Barbie's unrealistic measurements are damaging for girls. Frankly, Barbie was a beloved doll through my childhood, and I didn't spend a moment thinking about her shape. For me, she was an empty vessel to pour my imagination and dreams into. My Barbie was a badass: she owned her own hair salon and always drove on her dates with Ken. I didn't rely on the company to tell me what my Barbie was capable of — even as a child. But the thought of having a plethora of inclusive shapes, skin tones, and styles is awesome.
Inclusivity is never a bad thing. Showing our daughters that the tiny-waisted, long-legged Barbie isn't the only style of doll out there isn't either. These additions are wonderful whether you think Barbie affects body image or not. There's some research that validates the idea that Barbie negatively affects girls' self esteem by modeling an unattainable body type. But there's also research that children are most attentive to parents when it comes to developing a healthy body image. My mom's constant diets affected my body image a thousand times more than my closet full of Barbies. Her constant obsession with thinness made me question my shape more than any doll ever could. If she had handed me a curvy doll and thus signed off that the body type was just as beautiful as Barbie's original, svelte shape — that would've sent a message I desperately needed to hear.
The 2016 Barbie Fashionistas Dolls will be released throughout the year and include four body types: classic, curvy, tall, and petite. The dolls will include seven skin tones, 22 eye colors, 24 hairstyles, and — as you can imagine — tons of accessories. Barbie's finally going to know what it feels like to not be able to fit into some jeans. The struggle is real, Barbie.
We may disagree about whether our child's self-image is hinging on a doll's shape, but allowing children to see a variety of shapes, skin colors, and styles can only be an improvement.
This article was originally published on