Matthew McConaughey Helps Make 800 Turkeys For First Responders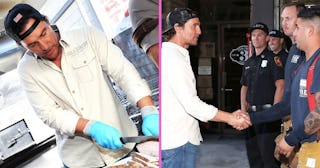 Rich Polk/Getty Images for Wild Turkey
Academy Award-winning actor Matthew McConaughey is no stranger to philanthropy. He and wife Camila McConaughey founded the just keep livin Foundation, a nonprofit organization dedicated to empowering and educating high school students to not only live active lives, but also learn to make healthy, smart decisions for a better future. Established in 2008, j.k. livin currently serves more than 2,500 students at 37 schools in 11 states, including California, Louisiana, New York, Ohio, Tennessee, and Texas.
But giving back doesn't start and end with j.k. livin. This holiday season, Matthew and Wild Turkey, of which he is creative director and has been since 2016, have teamed up with disaster relief organization Operation BBQ Relief to give thanks to first responders nationwide as part of Wild Turkey's "With Thanks" annual charitable giving campaign. The program kicked off Nov. 1 in Los Angeles, where Matthew, Master Distiller Eddie Russell, and a group of volunteers prepared and delivered 800 turkey dinners to more than 20 firehouses of first responders battling the wildfires raging across Southern California.
"Teaming up with Operation BBQ Relief as part of the Wild Turkey 'With Thanks' has never been more meaningful,' Matthew says in a press release. "Little did we know when planning this annual event that California, my second home, would once again be hit with devastating fires. Being able to provide meals to the men and women who put themselves on the line is an honor for me, Jimmy and Eddie Russell. We are grateful to be here today to say thank you, shine a light on their unwavering conviction, and hopefully inspire others to get involved and help in their own communities."
After rallying volunteers, Matthew jumped behind the grill to help prepare the hundreds of turkey dinners. (The turkeys were donated by Butterball, official turkey sponsor of Operation BBQ Relief, a nonprofit that responds to natural disasters and other situations to help feed displaced residents and emergency personnel.) He also led volunteers to cook and package an additional 800 dinners for local homeless shelters, in addition to help prepare the dinners for the first responders.
Matthew went live on Operation Barbecue Relief's website to introduce viewers to the key players behind the scenes as well as inform everyone of exactly what they're doing — and why this year's efforts are different that previous years' efforts.
Following the Los Angeles relief effort, Matthew and Wild Turkey will continue to support Operation BBQ Relief throughout the month of November. The philanthropic effort will bring Matthew and his Wild Turkey community to Dallas on Nov. 5, New Orleans on Nov. 12, and Chicago on Nov. 19, where they will thank first responders with turkey dinners.
Wild Turkey — an official sponsor of Operation Barbecue Relief — will also donate $50,000 to further Operation Barbecue Relief's work.
"Wild Turkey is founded on community – from our tight-knit group of distillery employees to the townspeople who have supported us through the years," Russell says. "To honor that spirit, every year we recognize people who perform extraordinary acts to support their communities – and do it with conviction. We are grateful to have our Creative Director Matthew McConaughey to help us take action and give thanks again this holiday season."
This article was originally published on