Ethan Hawke And Uma Thurman Adorably Gush Over 'Stranger Things' Star Daughter
by Madison Vanderberg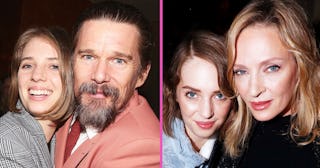 Bruce Glikas/Bertrand Rindoff Petroff/Getty
Robin, the Scoops Ahoy employee on 'Stranger Things' Season 3 is Maya Hawke, aka Ethan Hawke and Uma Thurman's daughter
Netflix dropped Stranger Things Season 3 over the July 4th holiday and although we won't spoil anything for the fans who are still devouring the fantastic series, we will spoil the fact that Scoops Ahoy ice-cream slinging newcomer Robin is played by actress Maya Hawke, aka Ethan Hawke and Uma Thurman's daughter. Thurman and Hawke met on the set of Gattaca and married in 1998. Later that year they welcomed their daughter Maya. She attended Julliard to study acting and got her break in the 2017 BBC mini-series Little Women. However, now that she's in Netflix's most popular series, she's well on her way to superstar status, just like her mega-talented parents.
Once you find out who her famous parents are, you can't unsee the family lineage. In fact, Twitter's new favorite pastime is studying photos of Maya, Uma, and Ethan and obsessing over how she "looks like a perfect amalgamation of her parents."
Maya didn't just inherit her parent's talented genes, they're her number one supporters and Ethan and Uma's social media posts about their daughter are like, so sweet.
"Some of you may have missed her in last year's BBC production of Little Women," her father Ethan wrote on Instagram. "Some of you may have missed her work at Juilliard. I know many missed out on numerous high school productions — heck I even missed a few and I'm her father. Some of you may know her music, some may not. But Ladies & Gentleman, get to know MAYA HAWKE. She's the real thing. #StrangerThings."
Our favorite comment is from Finn Wolfhard, aka Mike Wheeler, who wrote an enthusiastic "Yay Dad!"
As for mama Uma, she shared a delightful photo of her daughter basking in the summer sun and wrote: "My victorious loving mermaid daughter. A weekend of triumph on Stranger Things. Congratulations beloved [Maya Hawke]."
When Maya shared a still from the show a week ago, her mom wrote a resounding "I can't wait!" on Instagram, and awww.
Oh, and Maya's next gig is Quentin Tarantino's Once Upon a Time in Hollywood, so yeah, she's about to be a very big deal — just like her parents.
This article was originally published on