This McDonald's Minions Menu Is What Kids' Dreams Are Made Of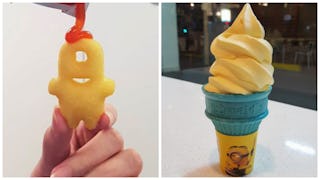 BELLO BANANA!
If your kids run around the house pretending to talk Minion, then they're going to lose their minds when they see what McDonald's is doing this summer. In honor of the premiere of Despicable Me 3 (But let's just call it the Minions Movie, because that's all people really care about) the golden arches are releasing new Minion-themed food. Yes, the menu is bananas.
https://www.instagram.com/p/BVR5vCAATWf/?taken-at=229198203
There's a banana soft-serve ice cream cone, complete with blue overalls, for full Minion effect.
The good news is that this treat is only a $1. The bad news is that the Minions menu is only in Singapore for now, and we're seriously jealous. Why can't we eat banana ice cream and pretend it's a healthy fruit treat?
https://www.instagram.com/p/BVfFttAhljg/
You can even get it dunked in chocolate, which makes us want to hop on a plane even more.
There's also these amazingly adorable minion shaped potato tots.
Admittedly, McD's fries are pretty amazing, so we're not sure these tots could really measure up. Still we'd love the chance to hand them to our kids to play with so we can eat our burger in peace. Plus, they come with curry sauce which sounds all kinds of delicious.
Okay fine, we want to try them.
https://www.instagram.com/p/BVeJkAiFzK3/
The McDonald's apple pie is the most underappreciated item on the menu. It's sweet, it's crunchy, it's cheap. So of course they had to come up with a Minion's banana flavored version our kids can only dream about.
I'm not kidding when I say my four-year-old saw this photo as I was scrolling through my phone and had a full scale meltdown when I told him we couldn't get a banana pie. He sat in front of the door with his shoes on and arms crossed, sobbing for a full 20 minutes. I showed him how far Singapore is on the map, and he asked if we could fly there. When I told him no, he insisted we could swim. Honestly, I'm with him. Why don't we ever get the good stuff?
https://www.instagram.com/p/BU50PoblUNB/?tagged=minionsmcdonalds
At least we still have Happy Meals.
This article was originally published on