These Products That Will Make Meal Prep So Much Easier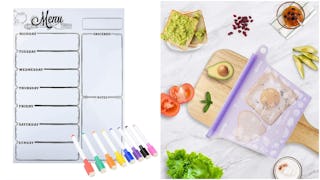 Image via Amazon
Meal prep just got so much easier with these super useful products
We all logically understand that meal prep will make our weeks more organized, efficient, and budget-friendly. But the idea of actually doing it? Blugh. Thankfully, there's a few very useful products that will help make the whole process a lot easier and – dare I say it – maybe even a little fun.
Get your daily intake of fruits and veggies by making some very delicious smoothies. Lunchtime just got a little healthier and a whole lot more refreshing.
Snag some reusable metal straws to go along with your daily smoothie. You'll no longer have to dig through drawers for an old plastic one and you'll be helping the environment. Wins all around.
Keep all your weekly meals stored in these super durable glass containers. These come in a pack of five and are microwave, oven, and dishwasher-safe.
You can also stash your meals in these environmental friendly, reusable silicone bags. Throw them in the fridge or take them on the go for a fresh treat.
Keep your soup nice and warm with this set of three takeout mugs. They're microwavable, have super secure snap lids, and will keep you cozy on chilly days.
Yup, you should definitely own your very own adult lunchbox so you can carry around your prepared meals. This one is leakproof, thermal insulated, super durable, and has two mesh pockets for drinks.
Mason jars don't have to be just a cool hipster thing anymore. They can also very easily store your soups, salads, and smoothies (while still looking pretty cool and hipster in the process). Snag this twelve pack for all the nifty storage.
These bamboo reusable utensils have got your back when you bring your prepared food on the go.
Make the meal prep process so much easier with this 200-watt, 16-ounce bowl that will mince, chop, grind, and blend your food. Multitasking for the win.
Get very, very organized with this magnetic refrigerator whiteboard. Write down all of your weekly meals ahead of time and feel extra smug for being oh so on top of things.
This food processor includes a built-in scraper, a pour spout, and a 450 watt motor. You are now that much closer to enjoying some super delicious guac with your breakfast every morning.
Prepare to live your most organized and budget-friendly life yet. Bring on alllll the smoothies.
We may earn fees from purchases made via links on this page and affiliated sites. All opinions are our own.
This article was originally published on