Meals on Wheels Donations Soar In Response To Republican Budget Cuts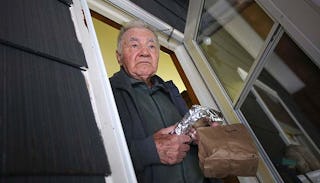 Image via John Moore/Getty Images
Americans responded to the defunding of Meals on Wheels by funding it themselves
If there's one thing Republicans are good at, it's fomenting resistance. We got yet another example earlier this week when the Trump Administration's budget proposal included plans to eliminate funding for the Meals on Wheels program.
Suddenly, people everywhere began to donate money and time in an effort to save the service.
According to a story on Mashable, when it was announced that the new budget proposal planned to slash all federal funding to the senior citizen meal-delivery service, American citizens weren't exactly pleased. And they put their money and free time where their mouths are.
50 times the usual donations suddenly flooded the Meals on Wheels America organization, and, according to Jenny Bertolette, vice president of communications at Meals on Wheels, their AmericaLetsDoLunch.org.website recorded "an almost 500 percent jump in volunteer sign-ups."
The surging numbers followed a storm of backlash to the proposal, as people took to social media to share their support for the program.
A statement from Ellie Hollander, President and CEO of Meals On Wheels America, sheds light on the fact that the program is already underfunded, and on how relatively cheap the service actually is.
"The network is already serving 23 million fewer meals now than in 2005, and waiting lists are mounting in every state…We can provide a senior with Meals on Wheels for an entire year for roughly the same cost of an average one-day stay in the hospital or ten days in a nursing home."
Just as we saw with Trumpcare, there are a lot of disgruntled people standing up and objecting to these plans. And the administration's defense of their intentions aren't helping matters.
In a bizarre justification for the proposed cuts to Meals on Wheels as well as programs that provide meals to low-income children, White House Office of Management and Budget Director Mike Mulvaney claimed the programs were ineffective.
"Meals on Wheels sounds great… but I can't defend that anymore. We're 20 trillion dollars in debt. We're gonna spend money, we're gonna spend a lot of money, but we're not going to spend it on programs that cannot show that they actually deliver the promises that we've made to people."
The last I checked, the promise Meals On Wheels makes is to provide meals to elderly people who need them. I think it's safe to say that by literally delivering meals, they're delivering on on that promise.
Of course, I'm not a doctor, so I can't be sure, but I am a human being, which I think makes me more qualified to weigh in on this than most Republicans.
In conclusion, let's check in with Twitter.
Visit the Meals On Wheels America website to donate and/or sign-up to volunteer.