Measles Reported At One Of California's Least Vaccinated Schools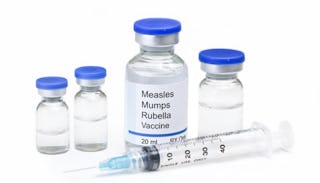 A school cancelled classes after an unvaccinated student contracted the measles
Measles cases are becoming increasingly common as more and more people opt out of childhood vaccinations, but a recent case in California shows just how problematic the illness can be. Nevada County health officials trying to prevent an outbreak were forced to shut down a school this week after an unvaccinated child was diagnosed with measles.
Yuba River Charter School cancelled classes on Tuesday, extending their spring break by a day, after it was revealed that a student infected with measles came to school on March 17. CBS News reports the student had just returned from an overseas trip, and officials estimate around 225 students could've been exposed, and 124 of those kids aren't vaccinated.
Classes resumed today, but only for kids whose vaccinations are up to date. Unvaccinated students won't be allowed at school until April 8, provided no new measles cases develop. It's a real "wait and see" situation because Nevada County also happens to have some of the lowest vaccination rates in the entire state.
At Yuba River school, CBS Sacramento reports just 43 percent of incoming kindergarteners are up to date on their vaccines. Even worse, only about 77 percent of kindergarteners in the entire county are fully immunized. Yuba River's director, Ron Charles, apparently doesn't see the issue. In a letter to parents, he appeared to encourage them not to point fingers, writing, "In a time such as this, it is of paramount importance that our diverse community stands together in unity and support of one another. We are a school of choice and a community of choice."
Measles was declared eliminated in the U.S. in 2000, but fears about vaccination have fueled a resurgence. Last month, a study even confirmed that anti-vaxxers are to blame for the meteoric rise in both measles and whooping cough cases in recent years. The problem has gotten so bad that last year California passed legislation requiring nearly all students to be vaccinated for the 2016-2017 school year. Parents can only opt out with a valid medical exemption.
The legislation, which goes into effect on July 1st, was hotly contested, but it's clear that left to their own devices, the majority of people are simply not making good decisions regarding vaccines. In 2016, schools shouldn't be forced to shut down in order to curb outbreaks of preventable illnesses. We know better than that; we can do better than that. The scientific community overwhelmingly supports vaccination, as do the vast majority of doctors. We can debate the merits of choice and the supposed risks of vaccines all day, but it doesn't change the plain and simple truth at the core of this fight: vaccines work, and our children need them.
This article was originally published on