9-Year-Old In Medically Induced Coma After Astroworld Tragedy
by Madison Vanderberg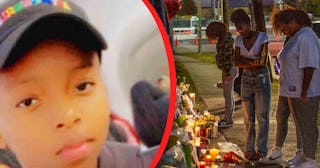 GoFundMe and THOMAS SHEA/AFP/Getty
A nine-year-old boy who attended Travis Scott's Astroworld concert is in a medically induced coma
Eight people have lost their lives and dozens remain hospitalized in the aftermath of the mass casualty event at Travis Scott's Astroworld Festival and one of those hospitalized in a nine-year-old boy in a medically-induced coma, whose Aunt is calling the concert a "death trap."
The devastating crowd surge on Friday, November 5, 2021 at Astroworld Festival, a two-day concert headlined by Travis Scott in his hometown of Houston, Texas, and hosted by Live Nation, caused at least eight deaths and left dozens of others with injuries requiring hospitalization. CNN reports that the eight concertgoers who died range in age between just 14 and 27, and of the 13 that remain in the hospital with injuries as of Saturday, five are under 18 years old, including nine-year-old Ezra Blount.
Ezra was on his father's shoulders at the concert, but when the concertgoers rushed the stage and began to crush into each other, Ezra's dad Treston Blount passed out.
When Treston woke up, Ezra was nowhere to be found. "The crowd just started going crazy and Treston goes, 'I can't breathe. I can't breathe,'" Ezra's aunt, Taylor Blount, told Today.
The family had to call around to hospitals in the area before they were finally able to locate Ezra at Texas Children's Hospital, where doctor's explained that Ezra suffered severe swelling in his brain and went into cardiac arrest.
Now, Ezra's in a medically-induced coma to minimize brain and heart function so the swelling can go down.
"He's made it very far. The doctor the first day told us that he wasn't expected to make it after the day, but it's how many days after, so I know he's fighting in there," Taylor said of her nephew.
Now, the family has retained high-profile civil rights lawyer Benjamin Crump and like the dozens of other lawsuits already filed in the wake of the concert, the Blount family is going after the event organizers over this completely preventable tragedy.
"The suffering that this family is going through is immeasurable," Crump said in a statement. "This little boy had his whole life ahead of him — a life that is currently hanging in the balance because of the reckless mismanagement that ensued at the Astroworld Festival."
"Having more security, having exits. A lot of things that could have prevented that. It's really no excuse for it. It's a lot of disappointment because it could have been prevented," Taylor also added.
Travis will pay the funeral bills for the dead and will give refunds to all ticket holders, though it's a little too late when eight young people have died and dozens others are hospitalized. Also, Scott has been widely criticized for failing to stop the show as fans in the crowd screamed for help and he's known for having high-energy concerts where he encourages his fans to "rage." Past Travis Scott shows have had a reputation for violence and resulted in injuries, but not deaths. As for the Astroworld tragedy, a criminal investigation has opened by local officials, though so far, no one has been arrested or charged.
You can donate to Ezra Blount's GoFundMe here.