Meet the Most Popular Plastic Surgeon on Snapchat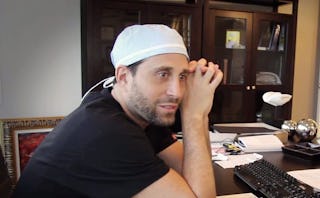 But then I pulled up Salzhauer's SnapChat on my phone. Suddenly I was right inside the operating room with him as he performed a Brazilian Butt Lift to the tune of Bell Biv DaVoe's Poison, giving us an upbeat play-by-play while slicing into the crease below a butt cheek. The result was mesmerizing.
"This is the reality of plastic surgery in Miami today," he told BuzzFeed, "and I want people to see it."
The 43-year-old Bal Harbour-based surgeon is definitely onto something. He started his SnapChat account on the advice of his 15-year-old daughter after Instagram kicked him off a few months ago. In the first day alone he scored 2,000 followers. Now he's got over 100,000.
It's not hard to see why. First of all, the "before" and "after" videos are insane. Dr. Miami's got some serious skills! From what I've seen so far, this dude can turn any kind of body into a sleek hourglass like J.Lo's in just a few hours. Love handles? Gone. Saggy butt? Vanished? Droopy boobs? Lifted! And this is just his first surgery of the day.
Salzhauer is also really fun to watch. For starters, he uses words like "shiznits" and "turnt." He give us hashtags like #fatbootyfriday. He sends out tweets like "Rocky's #BBL (that's a Brazilian Butt Lift for all you rookies) came out on fleek." And he uses sad-face emojis to cover the nipples on his breast lift "before" pics, which is just all kinds of brilliant.
Meanwhile, his staff clearly loves him. They joke about everything from movie reviews and hair weaves to the difference between Thai food and Japanese. But my favorite part is when they do the daily viewer shout-outs in their fashiony black scrubs punctuated with a "shout-out crown," which is actually just a silly plastic Happy Birthday tiara.
Can't decide if I want to work for this guy, or if I want him to make me look like Kim Kardashian. Actually, I can decide: Because while I had never heard of a BLL before yesterday, I totally want mine to be on fleek now.
Of course, since starting his snapchat Salzhauer has gone from 15–20 appointments a day to 80–100, which means he's already booked through July 2016. "This puts the whole process in perspective for people," he told BuzzFeed. "They can relate to it, they can see how it's going on in real time, and it makes them comfortable with the idea."
And if you're wondering how the good doctor gets his patients to agree to put their asses online in the first place, Salzhauer told BuzzFeed it's not actually that hard, and in fact, some even come in now asking him to broadcast their surgeries. "About half my patients want nothing to do with it," he said. "The other half are remarkably open to it."
Shiznits! Sign me up!
This article was originally published on