Megan Fox's Kids Crashing Her Interview Is A Relatable AF Mom Moment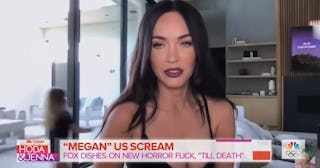 YouTube/TODAY
Megan Fox appeared on Today to chat about her new movie, but the early morning interview featured a few surprise background guests
Among the many challenges most people have faced since the COVID-19 pandemic made work, school, and other events entirely remote and virtual is finding enough space and privacy to actually, you know, do the things you have to do. None other than Megan Fox herself can relate — during her chat with Today co-hosts Savannah Guthrie and Jenna Bush Hager, her kids kept popping up in the background of the Zoom interview, and she handled it like a total pro.
The mom-of-three appeared to discuss her new movie Till Death when her kids kept crawling behind her, trying to stay out of frame. "They just woke up. It's 7:30 here. So, they woke up a few minutes ago, and it just is what it is. You always have to make it work."
"I'm in the house that we're staying in right now, this is the living room area," Fox explained. "And they all fell asleep on the couch last night, watching a movie. So, they just woke up."
Her three sons continued sneaking around the room, with Fox amazingly keeping her cool and managing to (mostly!) keep a straight face during each hilarious interruption.
Fox then got candid discussing what it's like to be a mom to her three sons, Noah Shannon, Bodhi Ransom, and Journey River. "I wish there was a way — I'm sure a lot of moms feel this way — where you could, just every once in a while for a day, put them all back at that 2, 3-year-old period. It's hard to watch them grow up so quickly."
"I actually struggle with that a lot, I cry about it all the time, because they grow up so fast," Fox admitted. "My phone will send me pictures of them when they were younger, and it's hard to look at it. It's painful to love something so much. But I have three boys. They are hilarious. They don't listen to me at all."
She added, "I also feel like no matter how engaged you are or how hard you were trying at the time, you always look back, and you're like, 'I could have been more present' or 'I hope I was grateful for this while I was in that moment, 'cause I'll never get that moment back,'" she said, gamely pointing to her kids in the background. "Life is just a series of moments," she concluded. "So, I'm really just trying to enjoy this moment and live in it and be happy with it."
Her feelings are definitely those that any parent can relate to, and serve as yet another hilarious and sweet reminder that even the most inconvenient moments with your little ones pass too quickly.