Some Women Actually Love Being Pregnant -- And They're Not Unicorns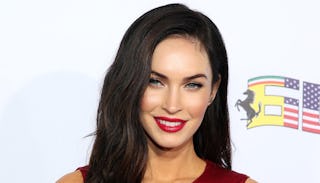 Image via Jonathan Liebsen/Getty
Megan Fox opens up about all the reasons she loves being pregnant
Pregnancy is an exhausting time filled with swollen cankles, heartburn, and sleepless nights, but not everyone thinks it's a little slice of hell on earth. In fact, actress Megan Fox recently opened up about her latest pregnancy experience, and surprisingly, she says she "loves" carrying a baby.
Fox is currently expecting her third child with husband Brian Austin Green, and in a recent interview with Extra, she admitted she's in no rush to get to the delivery room. "I feel great. I love being pregnant," she gushed. "A lot of women don't feel that way. It is really uncomfortable, by the way. It is painful at parts. But I feel the overall process is an amazing one."
The actress, who's already mom to two-year-old Bodhi and three-year-old Noah, said she's absolutely excited to meet her baby, but even in pregnancy she already feels their bond is incredibly strong. "I feel so productive creating a human person that I'm so excited to meet because I know that I have such a spiritual connection to them, so I can't wait to meet this new member of my family."
Fox broke the internet a few months ago when she turned up at CinemaCon sporting a surprise baby bump. At the time, she and Green were reportedly in the middle of a divorce, and there was intense speculation about who the baby's father might be. Fox responded to the scrutiny with a snarky and hilarious Instagram post dismissing rumors that one of her costars got her pregnant. She's been quiet about her pregnancy since then, but it's good to know the media hysteria didn't dull her positive attitude.
Pregnancy is not everyone's cup of tea. In fact, the current trend for expectant moms seems to be bonding over all the many things we hate about growing humans — you can't sleep, you gain weight, you puke, you're constipated, you get stretch marks. There's a lot to complain about, and no one would fault moms for swearing out loud every single time we have to wiggle out of our maternity pants to pee again. But Fox's comments are a good reminder to try to acknowledge the positive parts too.
Pregnancy is a unique experience, and not something everyone gets to do. Obviously no one is going to be walking around talking about how much they love their new arm fat or adore not being able to see their own bikini line when they look down, but that doesn't mean it's all bad. Next time you're feeling grouchy, grab some ice cream, prop your feet up on the couch, and channel your inner Megan Fox while you nap. You're growing a tiny human, and like she says, that means you're being productive as hell.
This article was originally published on