Megan Markle Gave An Important, Impassioned Speech About Gender Equality
by Leah Groth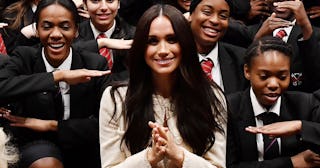 Ben Stansall-WPA Pool/Getty Images
Megan Markle delivered an inspiring speech to a group of students in honor of International Women's Day
Megan Markle is making her final round of appearances as an official member of the royal family. In addition to holding her prince's hand at fancy soirees and attending church with the Queen, the Duchess of Sussex, a longtime champion of equal gender rights, used the trip as an opportunity to inspire young people with a poignant, important, and truly special speech at an assembly in honor of International Women's Day.
Markle visited Robert Clack School in the town of Dagenham in east London on Friday, where she spoke to 700 students between the ages of 11 and 18 about the importance of the holiday and how both women and men can make a difference.
"When we thought about what I wanted to do for International Women's Day this year, for me it was incredibly important to be with the women of our future," she said. "And that is all of the young women here, as well as the young men who play a very large part in this. Specifically coming to your school made a lot of sense for me because of this social justice and the impact that it's rooted in."
Markle continued, "Your school mantra, as you all know, is 'Excellence for all, excellence from all.' So, how does that apply in your minds to International Women's Day? I think in many ways it's very much the same thing, this idea of excellence for all and from all, equality for all and from all."
Then, she invited "one brave, young" male student on stage to voice his opinion on the importance of the holiday.
After he voiced his opinion, Markle continued, saying, "I think that is the point: In many societies, it doesn't matter where you are, it's very easy to sometimes compartmentalize or silo this idea of International Women's Day solely being about women, but it's not. It's about all of us."
Markle then added that she encourages and empowers each and every student to "stand for what is right" and to "continue to respect each other."
"I encourage and empower each of you to really stand in your truth," she said. "For young men, to continue to value and appreciate the women in your lives, and also set the example for some men who are not seeing it that same way. "You have your mothers, sisters, girlfriends, friends in your life — protect them. Make sure that they are feeling valued and safe. Let's all rally together to make International Women's Day something that is not just on Sunday, but, frankly, feels like every day of the year."
Markle's visit didnt end there. She also visited the library and the students who were researching their favorite female poets and writers; and she visited the school's art studio, where students were preparing for their Model United Nations competition, according to reports.
We appreciate Meghan Markle's gender equality mission and look forward to seeing how she continues to inspire the world in her own way in her post-royal life with Prince Harry.