Megan Youngren Will Be The First Openly Transgender Athlete To Compete At The U.S. Olympic Marathon Trials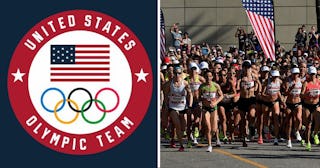 USA Track & Field, MARK RALSTON/AFP/Getty Images
Megan Youngren, 28, will compete for the 2020 U.S. Olympic marathon trials on Feb. 29
In so many ways, Megan Youngren is just like the other 63 women who qualified for the United States Olympic marathon trials on Dec. 8, 2019. The 28-year-old has been running for years, trained hard, and made a lot of life sacrifices to place 40th with a 2:43:52 finish. However, there is one way that Youngren differs from her peers competing on Feb. 29 for the team that will represent our country at the 2020 Olympic Games in Tokyo: Youngren was born a boy. The significance of her qualification is game-changing, as she will be the first openly transgender athlete to compete in U.S Olympic marathon trials.
"I'm open to talking about it to people because that's the only way you make progress on stuff like this," Youngren recently told Sports Illustrated. Youngren first started taking hormone medication as a college student in 2011, coming out publicly as transgender in 2012; and in 2019, she made it official by finalizing paperwork.
The New York Times interviewed Chris Mosier, the first transgender athlete to qualify for and participate in an Olympic trials in the gender with which he identifies, last month. "For me, it's all about making a pathway for all the trans athletes that come after me," he told the publication.
Spokesperson Susan Hazzard told SI, that to her knowledge, and that of other staff who have been with USA Track & Field (USATF) for many years, they "do not recall a trans competitor at [the] Marathon Trials."
After transitioning, Youngren started running in 2013 to lose weight and "boost her heath," and now she primarily races on trails and runs up and down mountains for fun. She added structure to her training in 2014, running her first marathon at the 2017 Equinox Marathon in Fairbanks, Alaska — crediting the race as getting her "hooked" on the 26.2-mile distance.
While working a job at a bakery, Youngren continued getting her times down, running every day after work.
"I thought that if I worked incredibly hard and took some huge risks that I could run a 2:45," she said. "People will try to put it down by saying, 'That's too easy because you're trans.' But what about the 500 other women who will qualify? There's probably someone with the exact same story. I trained hard. I got lucky. I dodged injuries. I raced a lot, and it worked out for me. That's the story for a lot of other people, too."
Over the last few years, as society has taken many strides toward protecting the rights of gay and transgender people, race organizers have been forced to reevaluate their rules regarding gender. For example, in 2018, the Boston Marathon changed their policies so runners could compete with their identified gender without have to outline their gender history. Some races have restrictions, requiring proof of hormone therapy.
USATF follows rules set forth by the International Olympic Committee. As SI reports, a transgender female athlete must prove that her testosterone level in serum is below 10 nanomoles per liter for at least one year before competing. And in Youngren's case, her numbers are well below standards.
"I have done everything by the book, and I can show that," she said.
Whether Youngren makes the Olympic team or not, she has scored a major win for the LGBTQ community.
This article was originally published on