I'm Thrilled For Meghan And Harry, And Stoked For The Oprah Interview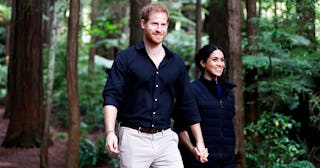 Kirsty Wigglesworth - Pool/Getty
It's official: as of February 19th, Meghan and Harry are no longer working royals. As in, they've quit as working members of The Royal Family. Not a shock: they agreed to revisit their decision to no longer live as working royals after twelve months, and eleven months later … boom. As usual, two statements were released, because when does Buckingham Palace resist the chance to release a staid, boring statement? "The Palace" AKA "The Queen and Co." announced, according to Town and Country:
"The Duke and Duchess of Sussex have confirmed to Her Majesty The Queen that they will not be returning as working members of The Royal Family.
Following conversations with The Duke, The Queen has written confirming that in stepping away from the work of The Royal Family it is not possible to continue with the responsibilities and duties that come with a life of public service. The honorary military appointments and Royal patronages held by The Duke and Duchess will therefore be returned to Her Majesty, before being redistributed among working members of The Royal Family.
While all are saddened by their decision, The Duke and Duchess remain much loved members of the family."
Staid, boring, and oh snap, Her Royal Majesty just stripped away all Harry's honorary military titles (despite him being a veteran of Afghanistan, where he served on the front lines, according to Elle), plus England Rugby and the Rugby Football League. Meghan got her patronage of the Association of Commonwealth Universities and the National Theatre yanked. Oops. Apparently, only working royals get patronages along with their mandatory nail polish shades.
Meghan and Harry Don't Need to Be Working Royals to Serve
The Duke and Duchess of Sussex, who still get those titles at least, even if they're stripped of using HRH (His/Her Royal Highness), hit back with a statement of their own, says the AP:
"As evidenced by their work over the past year, the Duke and Duchess of Sussex remain committed to their duty and service to the U.K. and around the world, and have offered their continued support to the organizations they have represented regardless of official role.
We can all live a life of service. Service is universal."
Daaaaaaamn. Scary Mommy's unofficial translation: "We don't need to be working royals to serve the public, so take your Royal Family living off the backs of the British people and shove it."
This all comes, like, five days after Meghan's baby news hit headlines around the world. Speaking of babies, despite the working royal rift, Harry remains sixth in line for the British throne, Archie number seven, and their next child number eight, says Elle.
Working Royals? Please.
Being working royals meant taking the official palace line — ignore, ignore, ignore — when it came to racist attacks against Meghan. Headlines commented on her "exotic DNA," and how she was "(almost) straight outta Compton," reports NBC. Harper's Bazaar said it often came through in microaggressions that the palace refused to address.
And real talk: when did The Royal Family last do anything meaningful other than provide fodder for The Crown? They cut ribbons, play polo, and live off British taxpayer funds: almost 95 million dollars in 2018-2019, according to British Heritage. Meghan and Harry cutting themselves off from "sovereign funds" is super mega awesome.
So now they're living away from British racism, free to speak out against it, and refusing to take cash from average British taxpayers? Um, total win.
And Now There's This Interview…
Meghan and Harry have announced they're sitting down with none other than the queen of chat, the one and only Oprah, for a special to air on CBS March 7th. Can you say must-see TV?! Buckingham Palace is collectively losing their shit. In a totally oops move, the Palace announced that just hours before the Oprah interview, they would be airing their annual Commonwealth Day service. It'll feature televised messages, according to People, from Queen Elizabeth, Prince Charles, Prince William, and Kate Middleton, among other working royals.
Apparently, that time slot was decided about three weeks ago.
Can you say awkward?!!
CBS says, according to People, that Oprah's interview with Meghan will deal with "everything from stepping into life as a Royal, marriage, motherhood, philanthropic work to how she is handling life under intense public pressure," and that they'll be joined later by Harry.
This could be the most awesome (read: scandalous, gossip-ridden, royal family-embarrassing) interview since Princess Diana sat down with Martin Bashir in 1995 and talked, according to The Independent, about her bulimia, self-harm, adultery, and Charles's affairs with Camilla, saying that, "Well, there were three of us in this marriage, so it was a bit crowded."
Because, let's admit it. This is what working royals are good for: scandal. Scandal, and those cute little Eton suits Prince George wears. Meghan and Harry are walking away from all that, and yay for them! Archie will grow up without people shoving cameras in his face. Meghan can clap back at any racist crap lobbed at her; the Sussexes can live how they want to live — without taking cash from the British taxpayers — and Meghan can wear outfits that aren't monochrome.
She can also pick her own nail polish.
Win-win.