Meghan Markle Asks Prince Charles To Walk Her Down The Aisle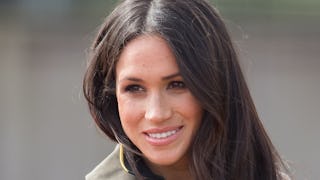 Image via Samir Hussein/WireImage
Prince Charles will be walking Meghan Markle down the aisle
For those not obsessively tracking all things royal wedding (aka, not me) things haven't exactly been smooth-sailing for the bride as far as her family is concerned. Amid plenty of sibling-related drama and some whacky tabloid tales about her dad, Meghan Markle has made the announcement that her future father-in-law will be the one walking her down the aisle tomorrow morning.
After a lot of chatter over whether Markle's father, Thomas, would be there to give away his daughter to Prince Harry, it seems he's staying in the United States to recover from recent heart surgery instead of hopping across the pond to be at the wedding. Enter a literal Prince who will take his place on the special day and accompany Markle on the big walk to her future husband.
The statement reads, "Ms. Meghan Markle has asked His Royal Highness the Prince of Wales to accompany her down the aisle of the Quire of St George's Chapel on her Wedding Day. The Prince of Wales is pleased to be able to welcome Ms. Markle to The Royal Family in this way."
And I'm not crying, YOU'RE crying.
No matter what anyone thinks of Markle's family drama or the royal family themselves, this is incredibly sweet all the way around. Charles only has sons, so this is his chance to walk a "daughter" down the aisle on her big day. Although Markle is likely pretty heartbroken over the state of her family situation (seriously, SO much drama), it's really nice to see Harry's father welcoming his new daughter-in-law into the fold in such a meaningful and memorable way.
In a previous statement earlier this week, Markle formally let the world know that her father would be unable to attend the wedding, leaving royal watchers to speculate over who would walk her down the aisle.
"Sadly, my father will not be attending our wedding. I have always cared for my father and hope he can be given the space he needs to focus on his health," it reads. Markle's mom, Doria Ragland, will be there to ride with her daughter in the coach that will take them to St. George's Chapel.
Ugh. Yes, I know she's marrying a literal prince and will have a beautiful life, but plenty of people can relate to this brand of heartache and difficulty with family. Before his health issues came to light, an embarrassing story involving her dad taking $100,000 to do staged photos showing him reading up on Britain and his daughter's relationship was all over the press. This should be the happiest time of her life, and amid all of the good, her family stuff is playing out on the world stage. It can't be easy, no matter what.
Which is why seeing Prince Charles step up to be there for her is so freaking heartwarming.
This article was originally published on