The Royal Baby Is Here: Meghan Markle And Prince Harry Are Officially Parents!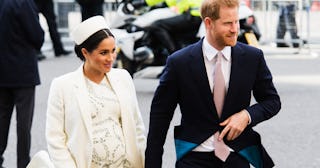 Samir Hussein/Getty
Meghan Markle and Prince Harry have officially welcomed their first royal baby
Only about an hour after news broke that Meghan Markle, Duchess of Sussex, had gone into labor, Buckingham Palace made yet another joyful announcement: The newest royal baby is here!
Prince Harry and Meghan Markle welcomed a baby boy early Monday morning local time, at their home in Windsor. The arrival of the little one was announced on their official Twitter account.
Shortly after the birth was announced, the Duke and Duchess of Sussex took to their official Instagram account to announce the sex of the baby, something that has been the subject of all kinds of speculation during months of Royal Baby Watch 2019.
And Prince Harry was caught by reporters outside the home, looking absolutely thrilled to be a brand new dad. Seriously, check out how adorably excited he is.
The Royal Family's official Twitter account alerted us that the Duchess had gone into labor and then provided several updates throughout the morning. It revealed that Prince Harry was with Meghan when she delivered the baby, and that Meghan's mom, Doria Ragland, is already with the couple and their new arrival at Frogmore Cottage, where they live.
"Her Royal Highness and the baby are both doing well," the Palace said in a statement. So far, the Queen hasn't commented, but according to Twitter, she's "delighted" at the arrival of her new great-grandson.
While we're all champing at the bit to get our first peek of the new arrival (and to find out his name!), there will be no parading of the royal baby on the hospital steps as we have become accustomed to, both because Meghan opted to have a home birth, and because she doesn't subscribe to the idea that she should present herself to public and media scrutiny within hours of evacuating a fully cooked human body from her body, either via her cervix or c-section. And power to her.
Luckily, for those of us who want to both respect this new momma's privacy and lay our eyes on the cuteness that is a royal newborn, Meghan and Harry have already said they would participate in a family photo shoot on the grounds of Windsor Castle within a few days of their baby's arrival.
We're so excited to hear that the baby has finally arrived, and can't wait to see him. Congratulations, Harry and Meghan!
This article was originally published on