Meghan Markle Opens Up About New Mom Stress In Emotional Interview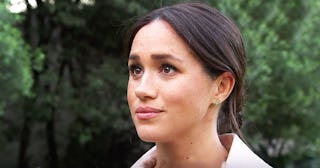 ITV News
Meghan Markle got very honest about new mom stress compounded with life in the public eye
Over the last few years, Meghan Markle's life has totally transformed. From marrying into the royal family, getting pregnant with her first child, and becoming a mother to son Archie in May, to getting the opportunity to travel around the world advocating a message of love and change, you can say the last few years have been a roller coaster for the former Suits star. While many of us can't exactly relate to her overall experience, (because seriously, who can?) her journey as a mother is universal. In a new new clip from their upcoming documentary Harry & Meghan: An African Journey, the Duchess of Sussex gets extremely emotional opening up to ITV's Tom Bradby about her experience.
"Look, any woman, especially when they're pregnant, you're really vulnerable, and so that was made really challenging. And then when you have a newborn, you know. And especially as a woman, it's a lot," she said about how being in the spotlight impacts her.
"So you add this on top of just trying to be a new mom or trying to be a newlywed. It's um… yeah," she continued.
Perhaps the most heart-triggering moment of the clip was when Meghan realized that Bradby was one of the only people who asked her how she was doing.
"I guess, also thank you for asking because not many people have asked if I'm okay, but it's a very real thing to be going through behind the scenes," she said.
He then asked if it "would be fair" to say that she's "not really okay, as in it's really been a struggle?" The second most emotional moment? When she quietly responded, "Yes."
While the Duchess manages to keep a smile on her face during all of her public appearances, she is clearly struggling on the inside — something that can clearly be seen by the pain in her eyes during this interview.
While there will always be haters, because some people are just jealous and miserable, so many people on social media rallied behind Meghan after interview, using the hashtag #WeLoveYouMeghan.
But perhaps the Duchess of Sussex's biggest advocate and source of support is her husband. Toward the end of their African tour, Prince Harry released a powerful statement condemning some of the treatment his new wife has received from the press and announcing a lawsuit against Mail on Sunday, who published a private letter from Meghan to her father, Thomas Markle.
"Unfortunately, my wife has become one of the latest victims of a British tabloid press that wages campaigns against individuals with no thought to the consequences – a ruthless campaign that has escalated over the past year, throughout her pregnancy and while raising our newborn son," he wrote.
He pointed out that she "continued to put on a brave face," despite the fact that he "cannot begin to describe how painful it has been."
"I have been a silent witness to her private suffering for too long. To stand back and do nothing would be contrary to everything we believe in," he continued.
"The positive coverage of the past week from these same publications exposes the double standards of this specific press pack that has vilified her almost daily for the past nine months; they have been able to create lie after lie at her expense simply because she has not been visible while on maternity leave. She is the same woman she was a year ago on our wedding day, just as she is the same woman you've seen on this Africa tour."
Harry also compared the situation to that suffered by his late mother, Princess Diana. "Though this action may not be the safe one, it is the right one. Because my deepest fear is history repeating itself," he wrote. "I've seen what happens when someone I love is commoditised to the point that they are no longer treated or seen as a real person. I lost my mother and now I watch my wife falling victim to the same powerful forces."
Markle's latest interview should serve as a reminder that she too, is human, and feels emotions just like the rest of us. Whenever you see a new mom, ask them how they're doing, even if you think they're okay because their life resembles a fairytale.