Meghan Markle's Official Royal Bio Is Up And Feminist AF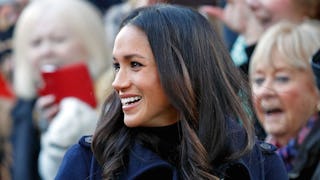 Image via Max Mumby/Indigo/Getty Images
The Duchess of Sussex is officially a presence on the royal family's website
Just a few hours after Meghan Markle tied the knot with Prince Harry (after walking down the first part of the aisle alone) her new profile appeared on the royal family's website — and it is feminist AF.
After the 36-year-old actress has taken flack from some critics for leaving behind her acting career to marry, her new bio page makes it clear that she will use her new position to forward social justice — especially when it comes to issues of women's equality and education.
In fact, the pull quote from the profile couldn't be clearer. It simply reads: "I am proud to be a woman and a feminist."
Markle's bio doesn't read at all like her Wikipedia page, which outlines her degrees, acting career, and lifestyle blog. Instead, it reads as a timeline of her charitable giving, volunteering, and humanitarian work over the span of her lifetime.
It begins with the story of an 11-year-old Markle, who successfully campaigned to get a sexist commercial about "wash-up liquid" changed to be more inclusive. Next, it discusses her work in a soup kitchen, starting at age 13, throughout her childhood in Los Angeles and again during her time filming Suits in Canada.
The profile then moves on to her bigger social justice accomplishments: being a Counsellor for the One Young World charity, being UN Women's Advocate for Women's Political Participation and Leadership in 2015, and being a Global Ambassador for World Vision in 2016.
Her profile and humanitarian work all seem to have one theme: feminism and women's empowerment. It mentions gender equality and International Women's Day — as well as Markle's trip to Rwanda where she learned about the country's steps toward women in leadership and women's empowerment.
Finally, the profile talks about her 2017 trip to India, where she worked with the Myna Mahila Foundation, who "empower women through access to menstrual hygiene products and employment opportunities." It's the first time the royal website has discussed topics of period poverty and menstrual health — except for when Markle had the same foundation listed on the Royal Wedding Charitable Donations page.
Some critics were quick to point out that her royal profile only alludes to her successful career as an actress in one line about her work in a Toronto soup kitchen that begins, "While filming in Toronto… ." The bio seems to back up the idea that Markle will leave acting and blog publishing behind altogether to focus on charity and social justice.
But despite critics, the overwhelming response seems to be that Markle is going to breathe new life into the royal family. Even if she plays the traditional role of a princess who spends her days selflessly giving in charitable ways, she's going to do it her way, and framed by her feminist mindset.
This article was originally published on