Meghan Markle And Prince Harry Have Officially Moved To L.A.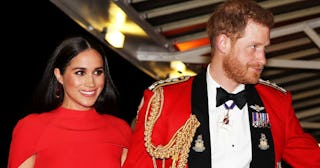 SIMON DAWSON/Getty
After a few months of living in Canada, Meghan Markle and Prince Harry are now Californians
Welcome to L.A., Sussexes! It's being reported that Meghan Markle and Prince Harry have left their dwellings in Vancouver Island, Canada, to take up residence in California. The couple is now settled in L.A. in a secluded compound, presumably socially isolating during the coronavirus pandemic in Meghan's hometown.
Though the couple hasn't confirmed this particular move yet, it comes as no surprise that they'd choose to reside in L.A. after announcing their break from the royal family earlier this year. Meghan has her mother, Doria, in L.A. and a solid support system of friends there.
A source in the couple's circle tells PEOPLE that they had been planning to look at houses in L.A. this year. "Harry is looking straight ahead at his future with his family," the source. "They will be spending time in California…He's not looking back." (Fun fact: when "sources" are quoted amid royal news, it's usually someone who has permission to speak for said royals on condition of anonymity.)
Back in January, Harry and Meghan said they will continue to bounce between the U.K. and the U.S. for the time being. "The Duke and Duchess will be spending their time in both the United Kingdom and North America," said the spokesperson, adding, "In addition to continuing to work closely with their existing patronages as they build a plan for engagements in the U.K. and the Commonwealth throughout the year, the Duke and Duchess have also been undertaking meetings as a part of their ongoing work to establish a new non-profit organization. The details of this new organization will be shared later in the year."
The couple's last official day as senior members of the royal family is March 30, though they made their final official appearances a few weeks ago. Since then, it's been announced that Meghan will narrate an upcoming Disney+ documentary feature called Elephant.
It's kind of awesome that the Duchess has wasted no time getting back to her love of the arts now that she's no longer obligated to let go of that part of her career. Elephant will be available to stream as of April 3.
Congrats to the couple we all love to admire, ogle, and cheer on. And welcome to the U.S.! Now stay inside with your adorable selves and that cute baby and stay healthy.