Meghan Markle And Prince Harry Give Oprah Their First Post-Royal Interview
by Erica Gerald Mason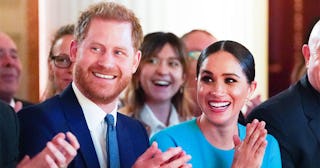 Paul Edwards/Getty
The Sussexes will chat with their friend and neighbor Oprah during a 90 minute special
The Sussexes are a generous couple. First, we get a glimpse at the totally adorable Sussex family Christmas card. Then the first episode of their Archewell podcast dropped at the end of December. As a Valentine's Day surprise, we learned the duchess is expecting her second child. Which was, coincidentally, the same day Princess Diana announced in 1984 that she was pregnant with Prince Harry.
Then the best news, ever: Oprah will interview our Megs and Harry in a 90-minute special, airing March 7 on CBS.
Oh. My. God. Did you just pass out from joy? Was that the happiness fairy dropping a little bit of excitement into our laps?
It's been roughly a year since Prince Harry and Meghan Markle confirmed they were going to step back from their royal duties. Since then, they've bought a house in California, supported their charities, and otherwise stayed fairly under the radar as they've settled in with their 1-year-old son, Archie Harrison Mountbatten-Windsor.
Now that the boxes are unpacked and business has been sorted, they've decided to talk about their decision to give up their role as senior royals and transition into private life.
O Magazine reports Oprah will speak with the pair, but will begin the interview wit Meghan. The two will chat about motherhood, marriage, and life under a microscope. Later, Megs will be joined by Harry – the couple will talk about the move to the U.S. and what their plans are for the future.
While there were likely many reasons behind couple's decision to leave The Firm, it's not difficult to see the difference between the openly warm, emotional Sussexes and the "stiff upper lip" tradition of the British Royal Family.
For example, Meghan's heartfelt statement about George Floyd's death and her statement supporting Black Lives Matter stood in stark contrast to the British Royal Family's relative silence on the subject of racism.
It's unknown if Meghan or Harry will talk in detail about their current relationship with the royal family, either professionally or personally. However, it's almost certain Meghan will discuss her ongoing legal battles with the British press.
Oprah has gone on the record about Meghan's portrayal in the press; telling Gayle King that Meghan was 'being treated unfairly' by the press. "I feel that if people really knew her, they would know that she is not only everything you perceive her as being — graceful and dynamic in holding that position — but that she just has a wonderful warm, giving, funny heart. I see all the crazy press around her, and I think it's really unfair," O Magazine reports.
Last year, Oprah announced she was teaming up with Apple and Prince Harry for a series that will be focused on mental health, a project that is currently in production.
Tensions between the couple and the Palace, most notably Harry's brother, William, have been reported in the past. Some royal watchers believe that, in order to deflect attention from unflattering news about his family, Prince William has used the media to leak compromising or untrue stories about Harry and Meghan. Last month, William himself spoke out against the racism football players have been subjected to by fans. Some in the media thought it was ironic that he would call out racism in sport (as he should), but did not say anything regarding the inarguably racist press his sister-in-law has received through the years.
Perhaps Harry and Meghan will discuss these matters in the interview? Here's hoping.
Oprah With Meghan and Harry: A CBS Primetime Special airs on Sunday, March 7 at 8 P.M. EST on CBS.