Meghan Markle And Prince Harry Are Expecting Their First Child!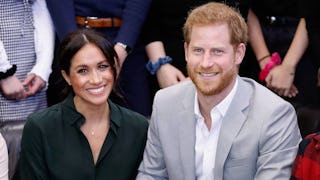 Image via Chris Jackson/Getty Images
Meghan Markle and Prince Harry will become parents in spring 2019
If you woke up this morning thinking today would be a humdrum Monday, you were super wrong. That's because Kensington Palace shared only hours ago that Meghan Markle, the Duchess of Sussex (and our hearts), is expecting her first baby with husband Prince Harry.
You may squeal now — we totally did.
After their wedding this past May, speculation was intense over when the new Royal couple would start a family. The answer was apparently "as soon as humanly possible." The Palace announced Markle was expecting on their official social media accounts.
The news came alongside a gorgeous photo of the couple from a recent appearance at the Joff Youth Centre in Peacehaven, Sussex and included the announcement:
"Their Royal Highnesses The Duke and Duchess of Sussex are very pleased to announce that The Duchess of Sussex is expecting a baby in the Spring of 2019.
Their Royal Highnesses have appreciated all of the support they have received from people around the world since their wedding in May and are delighted to be able to share this happy news with the public."
Look how beautiful they are.
Royal sources report that the new tot is due in April/May, which puts Markle at around 12 weeks pregnant.
The news comes just after Princess Eugenie's wedding to Jack Brooksbank, and according to a royal spokesperson, the couple received a bunch of congratulations from family during the reception, including the Queen. No word on whether they told family at the wedding. The spokesperson also noted that Markle's adorable mom, Doria Ragland, is "very happy about the lovely news and she looks forward to welcoming her first grandchild."
The Duke and Duchess arrived in Australia for their first official tour as a married couple right as the Palace shared their baby info, so that should be an exciting tour. Expect plenty of paparazzi photos trying to find even a hint of a bump — and expect plenty of adorable moments where Prince Harry dotes on his beautiful wife, as is his way. This couple is simply magic, and the thought of them as parents together makes me kind of tingly with romantic feelings.
Speaking of parents, they'll have some pretty amazing built-in tutors as Harry's brother Prince William and sister-in-law Duchess Kate are basically professionals having done this whole royal baby thing three times. Please let us imagine that Kate is already sending Meghan all the info on whatever stylist made her hair look so complete perfect mere hours after pushing out a baby. We kind of need this.
This article was originally published on