Meghan Markle & Prince Harry Are Expecting Another Baby!
by Valerie Williams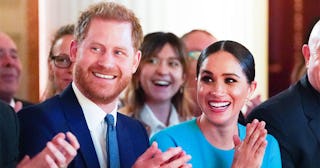 Paul Edwards/Getty
Meghan Markle and Prince Harry are expecting a baby months after sharing the heartbreaking story of their miscarriage
Only a few months ago, Meghan Markle and Prince Harry told the world some very sad news — they miscarried last summer, amid the COVID-19 pandemic. In a heartbreaking essay, Markle opened up about their loss, touching others who had experienced the same thing. And now, the couple are announcing news of a much happier kind — they're expecting another baby.
"We can confirm that Archie is going to be a big brother. The Duke and Duchess of Sussex are overjoyed to be expecting their second child," a spokesperson for the couple said in a statement alongside an image taken by photographer and friend of the couple Misan Harriman.
The pair are already parents to little Archie, who will turn two on May 6. Meghan and Harry are known to be very doting parents who deeply value privacy for both themselves and their son.
We rarely get glimpses of the sweet little guy, but we did get to hear his adorable British accent on the couple's new podcast late last year.
The pair famously stepped down as working members of the Royal Family early last year, relocating to Canada before ultimately settling in California, where Markle's mother lives. They've dropped the ability to formally use their HRH titles (though they have retained them as they're still members of the family) and are now financially on their own.
Last fall, Markle shared intimate details of the couple's miscarriage that summer in an essay for The New York Times.
"I dropped to the floor with him in my arms, humming a lullaby to keep us both calm, the cheerful tune a stark contrast to my sense that something was not right," she says. "I knew, as I clutched my firstborn child, that I was losing my second."
"Hours later, I lay in a hospital bed, holding my husband's hand," she writes. "I felt the clamminess of his palm and kissed his knuckles, wet from both our tears. Staring at the cold white walls, my eyes glazed over. I tried to imagine how we'd heal."
There's no word yet on when the new baby might arrive, but no doubt, the world will be thrilled at the news of a little sibling for Archie and a rainbow baby for Meghan and Harry.
This article was originally published on